It's safe to say I was not as disappointed by this episode of True Blood as Alcide likely was when a half-naked Sookie unleashed the contents of her stomach all over his shoes... but "Let's Boot and Rally" was still a big letdown.
Let's start at the end: it's a long-running pet peeve of mine that True Blood so often simply cuts off a scene and uses that as a cliffhanger. That's just poor, lazy writing. It's a cop out.
Did Alcide turn into a werewolf? Did he get attacked by a werewolf? Yes, I'll tune in to find out. But a series should not rely on editing and confusion to draw viewers in.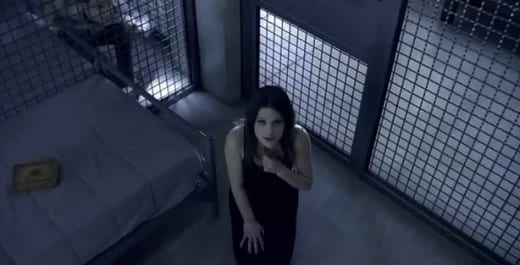 I'll operate on the assumption that Russell somehow has a cadre of werewolves under his power and they'll help free him from the dangerous situation that closed the hour.
That's sort of intriguing. I guess. We're nearing the halfway point of the season and there's been so much talk about Russell Edgington, yet so little action from the former king. In this case, Sookie, Bill, Eric, Alcide and (poor, poor) Doug trekked through bodies and rats and finally came upon their target... only for the installment to simply cut out on us.
Felt an awful lot like filler. Let's hope next Sunday night gives us an idea of what Russell is actually up to.
The editing felt off all around this week. Did Roman's speech about the Authority standing up to the Sanguistas really play into the fight between Tara and Jessica? Or Jason looking at the graves of his parents? It's as if the show ran out of time and just shoved these scenes together. I didn't feel any kind of through-like at least. Did anyone else?
But let's at all stop for a moment and smile at Jason in his He-Man pajamas. I owned the same exact pair when I was five.
As for Lafayette and his dark side... Terry and his ifrit... Sam and those masked shifter assassins. I wish I could offer up in-depth analysis, but I just don't care very much about any of these storylines. They feel like completely different shows, wholly unrelated to one another or anything else going on.
Yes, I was intrigued last week by the scenes in the Middle East - and downright disgusted here by Patrick's actions - but is anyone out there counting down the days until the next episode because you just can't wait to see what the fire monster does next?
I did enjoy Tara's inspiring speech to Tara, and I remain interested in the inner workings of the Authority. It seems far too easy for Nora to be the traitor, doesn't it? My suspicious eye remains fixed on Salome.
Overall, I've said it many times, but I wish True Blood would whittle down its characters. There's a definite storyline here with Roman, and the blood of Lilith and the concept of symbolic rituals and religious zealots and I wish it would take up a majority of the time on a weekly basis. There's plenty that material that could be mined from the Sanguistas and vampire-vs-vampire-vs-human relations. And, come on, it would mean more of Reverend Steve!
Instead, however, we get continually bogged down by seemingly random characters and events. Might they come together at some point? Sure. But that doesn't change my bored reaction in the moments/episodes leading up to that hypothetical resolution.
Like Sookie, I'm growing a bit exasperated. Lafayette wants to waste my time by going crazy, while Terry Bellefleur continues to get more screen time than Eric Northman? Must be Sunday!
What did everyone else think?
Matt Richenthal is the Editor in Chief of TV Fanatic. Follow him on Twitter and on Google+.