Warehouse 13 certainly had a lot of ground to cover in tonight's premiere. After all, they're basically rebuilding a Warehouse back from scratch.
"A New Hope" had a lot of fun doing just that, as Team Warehouse worked its way across the world searching for lost artifacts to tempt fate, turn back time and save the world from certain despair.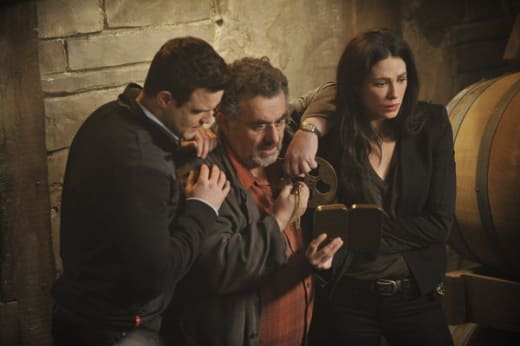 Yet, for all the good Artie did and his success in saving the Warehouse, none of it may ultimately mattered in the end after seeing the consequences of turning back time.
In the end, his actions came a great personal cost. Claudia may or may not be bad, but she's certainly a girl who has one mission: bring back Steve. Claudia's always had a bit of a dark center, but now that Artie has changed the course of history, it's very likely that the person he's closest to will be the one who bears that burden of his.
Will it result in his dream of Claudia stabbing him? I really hope not.
As heavy and dark as these themes are, Warehouse 13 never backs down in being charming or having fun. The small moments are always what I enjoy most about the show, and "Hope" certainly didn't let me down. Pete and Myka are still playful with one another, and continually ignore the chemistry and relationship they have that's right beneath the surface. Although, if the flashbacks in the beginning are to be believed, Pete is enjoying the relationship he has with Myka while Myka enjoys the relationship she has with HG... but I digress.
Artie and Claudia still have a father-daughter relationship, and are constantly making fun of each other's age. Their banter in the brotherhood's basement is probably one of my favorite exchanges of theirs to date:
Claudia: That's why it's a 24-hour stopwatch because Magellan was the first one to sail all around the world.
Artie: So you actually paid attention in fifth grade?
Claudia: Yes, now think back to your youth, and try to remember what he said to you on deck the night he crossed the International Date Line. | permalink
By the way, did you notice Brent Spiner as Brother Adrian?
Adrian and his black diamond brotherhood are certainly willing to do whatever they need to to make sure the rules are followed. Even if the world descends into despair. He even killed Pete in this now forgotten world. Now the question becomes: is the darkness and evil that the universe spiraled into after the warehouse was destroyed; is that kind of world a good enough tradeoff for unleashing some new kind of evil?
It looks like only Artie will have the answer to that, but I'm sure he knows of an artifact that can help.
Other thoughts:
The football actually scans for artifacts and sends that data to the warehouse. That is beyond awesome.
HG Wells' rehabilitation is now complete. I'm rather happy she won't be blowing up any time soon.
Syfy certainly put their corporate synergy flag at full mast with both Lester Holt and Ed Schultz doing small news segments.
The Scooby gang only has 23 hours left to reverse this mess, but Pete makes sure to do a Tebow pose. I love Pete.
Be sure to check out some of our favorite Warehouse 13 quotes, and let us know what you thought of tonight's premiere! Is Claudia "evil" now? What do you think happens now? Is Artie not long for this (new) world? Are you happy HG is now a free woman?