Upon the conclusion of the Weeds Season 7 finale, it was unclear whether Showtime would pick up this long-running hit for a final season.
As a result, creator Jenji Kohan was left in the difficult position of penning an episode that could serve as either a season finale or a series finale, setting up a cliffhanger that placed Nancy Botwin's life in jeopardy.
If Showtime gave Weeds the axe, viewers could assume Nancy died. If Showtime renewed Weeds for Season 8, the show would have a couple mysteries to solve off the bat:
Did Nancy survive? Who was the shooter?
Both those questions were answered on "Messy," but not much else went down on tonight's premiere.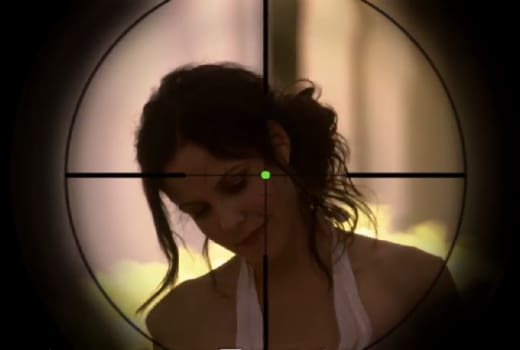 Yes, Nancy is alive. And despite the beeps, sounds and numbers we saw/heard to conclude the premiere, she will be remaining alive.
As for the shooter? Apparently it was Peter Scottson's son. I can't say I saw that coming. I can't say I care very much, either.
Clearly, based on Nancy's past, there was no shortage of suspects. I'm not sure who would have made for a satisfactory would-be assassin, but the offspring of a husband we all forget about awhile ago definitely does not qualify.
Will this act, and the realization that she really has ruined so many lives, make for a final season that focuses on a regretful, changed Nancy Botwin? If so, the revelation will be painted in a much different light, as one step toward a reformed heroine. But I just don't see that happening.
Kohan is on record as saying she doesn't believe people ever really change, leading me to think Peter's son won't play much of a role aside from simply answering the question of who shot Nancy.
Nothing from this episode really gave us much an idea of what we can expect going forward. It was really all just filler, with various characters doing and saying the things we've grown to expect from them: Doug was inappropriately dirty; Andy had sex with someone other than Nancy while still pining for Nancy; Shane cursed; Silas sulked.
Not very much in the way of plot development, that's for sure.
Unfortunately, Weeds is limping to the finish line. It remains a groundbreaking series for Showtime and I've always admired its bold attempts to change up its format. No one can ever accuse this series of just chugging along, content with the status quo.
But there hasn't been a clear direction for a couple seasons now. The characters have mostly worn out their welcome. I'm all in for the final season, I'll do my best to keep an open mind, but perhaps Weeds and Nancy would have been best served if they were not revived.
Matt Richenthal is the Editor in Chief of TV Fanatic. Follow him on Twitter and on Google+.