The FBI's most "Wanted" man and his eccentric and lovable right-hand man have returned for what promises to be an exciting fourth season of White Collar.
Neal and Mozzie may have escaped to paradise in Cape Verde, but it didn't take long until their safe haven became a hunting ground.
When we left Neal at White Collar Season 3, his commutation hearing appeared to be going extremely well, with the exception of Agent Kramer's relentless attempts to prove that Neal was still a criminal, leaving no stone unturned.
Unfortunately, Kramer found that damning stone, and Peter gave Neal the signal to run, leaving fans everywhere wondering just what would happen next.
And now we have the answer: Neal and Mozzie took refuge on the non-extraditing island of Cape Verde, living a lavish lifestyle in a seaside villa. Of course, we expected nothing less, but what a sad, sad thing it was for us to see him have to flee it... or at least attempt to do so.
It looks like they had made friends, one being Hector, the little guy with a fruit stand that Neal and Mozzie both seemed affectionate toward; and the beautiful Mya, who apparently stole Neal's heart. They'd even found a man whom they could pay to assure their anonymity and isolation from the outside world, as long... as that world didn't include the United States government we found out later.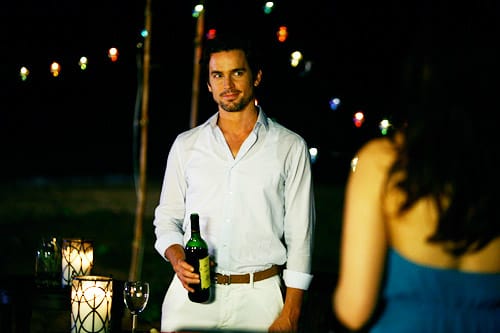 Things were as exciting on their end as it was on Peter's. Set on finding Neal, Peter had his own investigation going into where Neal and Mozzie had escaped to.
But his search became even more urgent when Agent Collins from the Office of International Affairs entered the fold. Peter seemed to think that Kramer was likely behind Collins appearing at the New York bureau, and it wouldn't't surprise me one bit if it's true.
Collins, much like Kramer, is a askin to a bull running through a china shop, and neither will stop until they've taken out every plate, or every conman, in the room. The only reason Kramer isn't pursuing it himself is likely because it's out of his jurisdiction.
Jurisdiction, stateside or otherwise, certainly wasn't a problem for Collins in Cape Verde, as he willingly and loudly placed a bounty on Neal's head upon arrival. If Peter ever had a reservation about the lengths to which Collins was willing to go to get the collar on Neal, he no longer has any doubts. Mekhi Pfifer is a perfect fit for this role and fits naturally into the cast.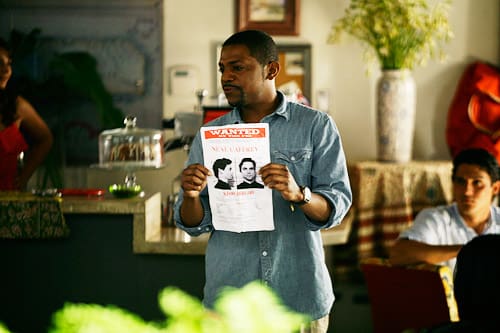 One good thing that came of this whole encounter?  Peter finally getting to connect with Ellen Parker, who we got our first glimpse of in "Judgment Day." Thanks to Elizabeth, Ellen realized that Peter really was looking out for Neal's best interests, giving him the critical link to uncovering his whereabouts. I have no doubt she will continue to make appearances this season, perhaps revealing more about the years before he turned 18.
Other highlights from this episode:
Neal's sand-rendering of the view from his New York apartment, complete with lighting.
Mozzie's alias, Barry Satoro.
Neal's use of Hector as a means of gaining Mya's affections.
Peter being placed on leave, giving him the ability to track Neal down.
Mrs. Suit offering to emulate Neal's unruly behavior during a stakeout to make Peter feel better.
Diana and Jones working with Peter off the grid to help Peter find Neal.
What did you think of the season four premiere, Collars? How will Neal get out of his latest predicament?
C. Charles is a TV Fanatic Staff Writer. Follow her on Twitter.