Welcome to the latest Breaking Bad Round Table.
Following a pulsating episode that put a bullet in Mike and introduced Walt as Heisenberg to his new business partners, our team of Matt Richenthal, Chris O'Hara, Dan Forcella and Lisa Palmer is here to go over "Say My Name," while also looking ahead to Sunday's summer finale.
Pull up a virtual chair and sound off on the topics below...
-------------------------------------------
What was your favorite scene from the episode?
Matt: I just smiled throughout the entire opening. The concluding murder of Mike was clearly the most noteworthy and exceptionally well done, but I enjoyed every second of Walt doing his cocky Destiny's Child impression.
Chris: Walt shooting Mike because, for once, Walt had blood on his hands and no one else to blame. It was also a touching farewell to a tremendous character who could own a scene even when not speaking.
Dan: Also the opening scene. I didn't think it would get much better than Walter describing himself as the Yankees, but then he went out and said he was "Classic Coke." Walt has turned the corner, and may now go down as one of the best characters in television history. He has evolved, albeit into an absolutely awful person, but that evolution has been extremely fun to watch.
Lisa: I think the most powerful scene in the episode was when Mike knew he was caught. The look on his face when he realized he'd have to disappear and he would never see his granddaughter again was devastating. I also loved the confrontation between Jesse and Walt because of the outcome. It may not be permanent, but for a moment, Jesse triumphed.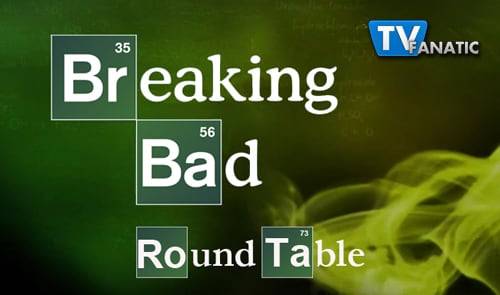 Pen a eulogy to Mike.
Matt: A man who Teddy Roosevelt would love, Mike spoke softly and carried a big stick. He understood the game, he respected its rules and he was damn good at his job. A novice Hungry Hungry Hippos player, Mike could avoid a tail even better than Emily Thorne can avoid discussing her past. He will be missed.
Chris: Devoted father, friend and partner. Mike was a product of the old school and lived his life according to its code of respect and loyalty. His vast knowledge of countless areas served him well to stay a step ahead of the competition. Anyone who spent time with Mike knows that stern expression he wore on his face like a suit of armor. If he battled demons inside his head, one would never know, as he was the picture of focus. He is survived by his daughter and loving granddaughter Kaylee, who provided a ray of light in a man's life that saw a lot of dark things.
Dan: The man loved to wear a frown. When others were smiling through life, cooking and selling as much meth as they could, Mike was just a downer 24/7. He knew the business, sure, but he couldn't quite calculate when his end was coming, and for that I feel sorry for him.
Lisa: Mike was a man of few words and meaningful looks. He was a beloved grandfather and knew how to wield a weapon like no one else.
Is Jesse really out?
Matt: Out of cooking meth? I actually think so, yes. He hands are dirty and he's more tied up in the business than he wants to be, making a clean break impossible. But I think we've seen the last of him in a colored hazmat suit.
Chris: Not a chance. Jesse will probably spend a few weeks on the couch playing video games with Badger and Skinny Pete before he realizes he is capable of much more.
Dan: Just when he thinks he's out...Walt pulls him back in. Honestly, though, he may be out. With only nine episodes left, I could see them taking Jesse in a different direction for the final run. He certainly deserves to get out of the way as this whole thing begins to come crumbling down around Walt.
Lisa: I wish I could say yes. Jesse and Walt are the balance to the equation that is Breaking Bad. Jesse may be out for a moment, but he'll be forced back in by Walt.
Make one bold prediction for the summer finale.
Matt: Hank will step closer to ever to learning that his brother-in-law is Heisenberg. The final shot will be of Hank looking or hearing some piece of evidence that links Walt to the case.
Chris: Walt will dig out that Ricin from the wall socket and put it to use, possibly to eliminate one of Mike's boys from turning informant.
Dan: Agreed. Hank will find out all of what Walt has done.
Lisa: That spider jar is coming back to haunt Walt. Todd is smarter than he looks.
Matt Richenthal is the Editor in Chief of TV Fanatic. Follow him on Twitter and on Google+.