The title of this week's Bunheads, "No One Takes Khaleesi's Dragons," was about the opening of a new grocery story, if I'm not mistaken.
It wasn't even a direct quote, but it had something to do with the need for all the conveniences found in one store, as opposed to spending your entire day in 47 different quirky shops to accomplish the most mundane tasks. You know, things that the rest of us in the United States obviously take for granted, like getting stamps and a cup of coffee at the same time, all in under 10 minutes.
Be real. Nobody in their right mind is going to stand in line reading a book while some ass first plucks and then smells each individual coffee bean to brew the perfect cup. Ever. I don't care if one sip makes gold sprout out of your ears. You might stand in the line once, but in this fast-paced society the place would go under.
At the very least someone in line wold be rockin' a Kindle. Newspapers, paperbacks, textbooks and hardbacks? Not a Nook or a Kindle in sight. Other than the view outside of Hubbell's bedroom window, Paradise was not aptly named.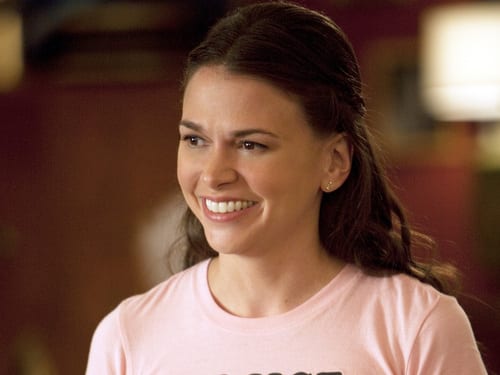 Poor Boo. She finally found a boy who liked her and she liked him in return and her friends ruined it. I don't understand how she missed the signals of how hurt he was. To her credit, she kept trying and those signals waned. She couldn't catch a break, but Melanie had her back.
I was so happy when she laid into Ginny about liking Charlie! Ginny had the nerve to say that Charlie didn't like Boo back, but Melanie said it didn't matter, Boo still owned the rights. Awesome girlishness right there. For four girls who spend so much time together, their understanding of friendship is really lacking.
To make matters worse, when Boo went for it, inviting Carl to a private conversation and telling him how she felt, it looked like everything was going to work out. Until Ginny screamed out that she didn't like Charlie after all. She and Melanie started fighting among themselves, but Boo couldn't help herself and got caught up in it, leaving Carl to slink away, feeling used.
The bunheads are just too young for boyfriends (I say, ironically, as Ginny had an eight-year relationship by the age of 16).
Who knew the best thing that could happen to Sasha would be cheerleading? Not that she's all that great at it, or that she's making friends or influencing people. But she made a kick ass speech during the basketball game about lying to boys from a young age, making them think they could do anything when they really couldn't so when they got the real world all they wanted to do was drink, get fat and die of a stroke by 46. Considering the talented ballet students in Paradise, you'd think, logically, there might be some damn good cheerleaders in the area as well. How incredibly wrong you would be!
Next week is already the summer finale. Fanny churned out some great Bunheads quotes tonight, so I'm looking forward even more next week. Michelle might be playing with Godot (hot couple alert!). Who knows what the bunheads will be up to. It's all up in the air but now that I'm entertained again, I can't wait!!
Let's take a look at this week's pop culture references, and then hit the comments with your thoughts on tonight's episode.
Brad Pitt
Facebook
Anne Frank
Game of Thrones
Footloose
Dennis Rodman
50 Shades of Grey (again!)
Moonstruck
Skype
Hugh Jackman
Kevin Bacon
Ed McMahon
Punky Brewster
Carissa Pavlica is the managing editor and a staff writer and critic for TV Fanatic. She's a member of the Critic's Choice Association, enjoys mentoring writers, conversing with cats, and passionately discussing the nuances of television and film with anyone who will listen. Follow her on Twitter and email her here at TV Fanatic.