There were so many fun elements to the summer finale of Bunheads, "A Nutcraker in Paradise."
Sasha returned to the school, the bunheads had an armistice over their boy situation, Boo declared her intentions toward Carl in front of a packed restaurant and Fanny asked Michelle to watch the school for a few months in the hopes she and Michael might spirit away to Montana for some time together.
But in between all of this was a ringer. Not only an actual ringer to play Clara in The Nutcracker because Fanny thought Sasha was unavailable... but Michelle. Michelle has been a ringer of sorts since she arrived in Paradise, and if her dreams have any clarity into her psyche and what little she knew of her husband, Hubbell, that was the intention all along.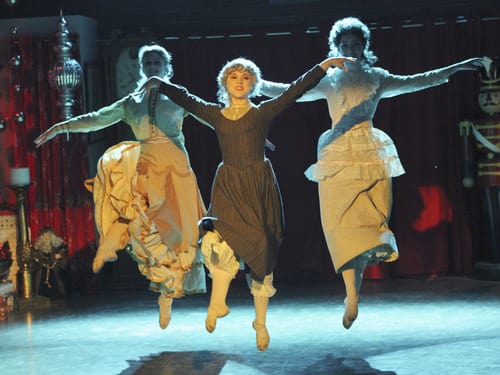 Things were going great for Michelle up until the performance. She and Fanny were getting along very well. She had earned the trust of Sasha, Boo, Melanie and Ginny. The locals believed in her and showed up in droves for the fundraiser she planned for the ballet school. She was fitting in. 
The thing about Michelle is she has a giant heart and wants everyone to succeed where she fails, whether it be in their career, their love lives or friendships. But since she hasn't had the best of success in those areas, her ideas aren't always the best for the situations at hand. The truce between the bunheads worked, but drove a wedge between Melanie and Ginny, because it required them never to speak on the subject of Charlie. A practical impossibility for both of them.
When Michelle learned how hurt Fanny was that Michael had a completely different Montana dream in his future than the one Fanny had built for the two of them, she shared that vision with Michael, possibly driving him out of Fanny's life by forcing something on him that Fanny had never been interested in doing herself. 
The physicality of macing the entire production of The Nutcracker was a symbolic gesture. In her attempt to help them cool off with the waning air conditioning via a cool mist of water, she instead sabotaged the entire show and put everyone in jeopardy. I found the entire setup quite brilliant.
As exhaustion and despair set in and she fell asleep in the hospital, Michelle found herself in the familiar dream of auditioning. But this time the song and dance were different, as was the judge. It was Hubbell, and his response was a simple, "Wow." Through her dream conversation with Hubbell, Michelle learned it was always Hubbell's intention to take Michelle back to Paradise to shake things up. To do to Paradise what she had done to him.
Where she continued to say things were broken and couldn't be fixed, he calmly told her how things had changed. He pointed out that Fanny had always wanted a girl. He talked about how different the bunheads were while their silhouettes danced behind them. Michelle asked of him the one question she would never get an answer before she awoke, would they have made it? 
As much as dream Hubbell tried to show her the why of her trip to Paradise, the successes and positive changes, when she woke up she heard the parents calling for her head. Once again being called the town hussy for her behavior at the fundraiser with Godot, wanting her neck for putting their children in peril by macing them and she decided to slip out the back door. But not before Sasha saw her, and remembered the scene from "Dead Poet's Society."
As an homage to the life lessons John Keating taught his students, she stood on a chair and shouted "O Captain! My Captain!" The other girls followed suit, but Michelle reminded them that he still had to leave in the end.
Quite a pitch perfect summer finale, and it would have worked well as a series finale should it have come to it. Surely, it would have left us forever wondering about the fate of the friendships forged and lessons learned, but still quite an accomplishment. Thankfully, we'll have more Bunheads later this year. Will you be back?
Let's not forget our cultural references for the week!!
The Craft
Bilbo Baggins
Strawberry Fields
Kofi Annan
Justin Bieber
Prince
The Muppets
Iron Butterfly
Wham!
Single White Female
U2, Where the Streets Have No Name
One Flew Over the Cuckoos Nest
Dead Poets Society
Carissa Pavlica is the managing editor and a staff writer and critic for TV Fanatic. She's a member of the Critic's Choice Association, enjoys mentoring writers, conversing with cats, and passionately discussing the nuances of television and film with anyone who will listen. Follow her on Twitter and email her here at TV Fanatic.