Pay attention everyone, or "Blank Up, It's Time!"
Who cares what the title of the crappy play meant? Fanny's back! Her return amped up my enjoyment of Bunheads tenfold. Michelle was brighter, the bunheads were brighter, the story was brighter. Without Fanny, darkness falls upon Paradise. Fanny returned and love was in the air. Let's break it down!
Fanny has a boyfriend! Who saw that coming? I sure didn't, but I love her taste in men. Michael is a musician with a fantastic sense of humor who seems to fit Fanny like a glove. When Michelle waltzed into the kitchen talking about kinky breakfasts, she could have easily sent a lesser man.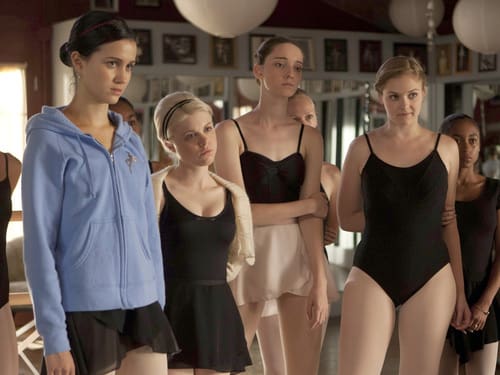 Vacation was also kind to Fanny's opinion of Michelle. Their scenes together were comfortable and not forced. The stride they had hit before she left is riding the wave and it's a joy to watch them. I adored the bit at the theater when the big-legged woman wouldn't let Michelle through the aisle. Are there any of us who haven't had situations similar to that and wanted to claim a similar victory? My favorite line of the evening:
Fanny: Well, I love getting sloshed at the theater. | permalink
Amen, Fanny, we would all love to take our sippy cups full of wine into the theater to get wasted. Who's with me?!?
Michelle got a little action of her own! When she was outwitted by the matinee crowd while attempting a restroom maneuver and lost her seat, providence introduced her to the director of the play, Conor. He was the second man she had flirted with since Hubbell and I thought they were a great match.
Apparently Fanny agreed with me because she practically pushed Michelle into a one night stand with Conor, suggesting several different modes of transportation she had at her disposal to make the ride home pleasurable. While Michelle didn't take her up on that suggestion, she did go on a date with Conor - and ended up sleeping with him afterward. 
Michelle didn't pick the best time to break out of her shock, but she burst into tears at the thought of Hubbell while she was in bed with Conor. It was very sweet, and Conor was a good sport, quite appreciative actually, given that he was a writer and could use all the material he could get. I don't know if that means for certain that they'll never cross paths again, but since he's a Broadway director, we can probably assume he was just passing through. That's a shame that because he had great potential for Michelle. 
They have to stop introducing guys who fit with her so well and then rip them away. If she's going to casually date, then let's make sure there is something wrong with the men so we don't mind them disappearing. Realistically, every man she meets cannot be such a great match!
Finally, Boo was awarded a coveted Ginger Rogers dance part when Sasha continued to act up. It gets really tricky here because Boo was initially pretty bummed that her dance partner was shorter and goofier than the Fred Astaire usually paired with Sasha. As it turned out, Carl really liked Boo, and they got along fabulously.
As her initial reaction was one of regret, her friends were still on that bandwagon when he was attempting to include her in some outside activities. I could feel both of their little hearts being crushed when Melanie and Ginny tore them apart and then proceeded to conversationally beat him down to Boo. 
In smaller doses, split in thirds, it all worked. Fanny, Michelle and the bunheads. I didn't feel overwhelmed at the amount of airtime anyone got, or underwhelmed for that matter. The interactions between Fanny and Sasha were perfect. Fanny knew how to lay down the law and Sasha wasn't able to stomp all over her. Sure, they're both hurt and they all have a lot to work out, but I wasn't angry at Sasha for her disobedience because it was given in lesser amounts.
Bunheads was back on track and extremely enjoyable this week. What did you think?
While you ponder the thought and work on your comments, here are some of the pop culture references visited during the hour:
The Sound of Music
Katy Perry movie
Black Swan
Ginger Rogers and Fred Astaire
Spinal Tap
White Sox, Cubs and Indians
The Kardashians
Stewie Griffin
Law and Order
Carissa Pavlica is the managing editor and a staff writer and critic for TV Fanatic. She's a member of the Critic's Choice Association, enjoys mentoring writers, conversing with cats, and passionately discussing the nuances of television and film with anyone who will listen. Follow her on Twitter and email her here at TV Fanatic.