What happens when the fixer needs fixing? 
That's the question heading in to tonight's season finale of Necessary Roughness, as star Callie Thorne let us in on some of the struggles Dr. Dani will face as the summer season closes on "All the King's Horses."
-------------------------------------------
Dr Dani may have the answers for her patients, but when it comes to her personal life, things aren't so easy.
"As we head into the season finale... every which way she turns, it feels like a question and she can't answer them," the actress told me in a conference call. "But we finally see her reach out for help."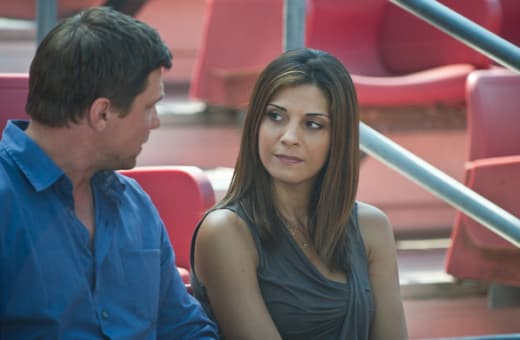 So it appears that the Hawks' favorite therapist decides to see a therapist.
"Peter MacNicol, who plays her therapist, is genius. I don't want to give anything away but the therapy scenes are really eye opening."
Thorne is willing to give some insight into Dani's inner psyche, though: "Dani is the fixer. Dani makes this big sacrifice [when she breaks up with Matt] because she doesn't want kids."
But Callie explains that Dani ends up in this strange limbo that "can be a little bit paralyzing and leads her to wonder whether or not she's making the wrong decision with Matt and possibly finding herself losing the love of her life." 
Yet there's still Nico, her "polar opposite." Could there be a romantic future there?
"Suddenly there's this open possibility with Nico, which then throws her into mass confusion. At the end of the day, she's still struggling," previews the actress.
Does that mean Necessary Roughness ends the summer on a cliffhanger?
"That's what we do on our show. We don't tie everything up in a bow."

Who will you be rooting for in tonight's finale? Should Dani choose Team Matt or Team Nico?
C. Orlando is a TV Fanatic Staff Writer. Follow her on Twitter.