The premiere of Copper marks the BBC's first attempt at a developing a show geared toward American audiences, something I didn't realize anyone had any interest in. With recent hits like Sherlock and Downton Abbey, why fix the formula if it isn't broken?
Then again, why not?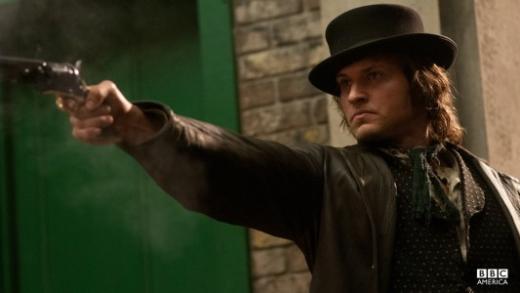 With the American appetite for British content experiencing a revival, now is the perfect time to experiment. Yet, it seems that in the alchemy of creating Copper, the BBC added a pinch too much America and left out some of the elements of British TV imports – subtle wit, standout performances and nuanced writing – that make them so enjoyable.
But that doesn't mean that I think Copper is bad; I just don't think it's as exuberantly watchable as Downton Abbey or Doctor Who. Theoretically, Copper is solid ground for the BBC; it plays to its strengths. It's a period piece, and you know how we Americans love historical drama, especially if everyone has British accents, even if it's ancient Rome (HBO, I'm looking at you). But don't expect too many Brits on Copper.
Detective Kevin Corcoran (Tom Weston-Jones) is an Irish police detective, or copper, in the notorious New York City neighborhood of Five Points. Weston-Jones plays the honor-bound, lawman-with-a-code Corcoran convincingly, if not a little impenetrably. Happily, there were moments when I caught a glimpse of the snarky, disillusioned, but principled character that Corcoran could be, and I hope we see more of him.
As far as the rest of the cast goes, there's the brilliant but discriminated against doctor, Matthew Freeman; the kind but strong brothel Madam, Eva Heisen; the society rogue Robert Morehouse, and the smart suffragette Elizabeth Haverford. With so many players to set in motion, we learned very little about most of the cast in this opening hour, so there's plenty to dive into in the weeks to come. 
As the show progresses, the characters' backstories will (hopefully) be woven in with the crime of the week, since Copper is, at its heart, a police procedural. As Detective Corcoran unraveled the murder of a young girl, Copper felt, at times, an awful lot like an episode of Law & Order (ironically, the only American show to ever be adapted into a UK version). You would be hard pressed to say whether some of the lines on the Copper quotes pages came from New York coppers circa 1864 or NYPD circa 2004.
But unlike SVU, Copper doesn't tie up all the loose ends from crime to court. There's no justice at the close of "Surviving Death", just desperate, dingy reality and the hope that things will turn out better next time. It's an oddly refreshing outcome to an episode that felt like a formulaic modern day crime drama retrofitted to the 19th century, primitive forensic science and all.  
A (copper) penny for your thoughts!
The first fifteen minutes of the Copper premiere was almost entirely violence and sex, and I've never seen that much gratuity in any other BBC show. Do you think that was the BBC's way of saying, "this is an American show"?
What is it with the eggs? Det. Corcoran just offered them up to people left and right, but only women ate them (or liked them). Was that a thing in the 1860's or is it oddly placed symbolism?
Will you be tuning in next week for Copper's second appearance or was once enough?