Jane By Design Review: It's You

Carla Day at .
"It's you" takes on a whole new life in the Jane By Design season finale.
Those words were uttered by Billy to Jane at the fashion show in the spring finale, but he then covered up their true meaning to her. Their love connection was missed, but their friendship remained strong.
In the school play, Billy made the above declaration on stage to Cinderella (played by Zoe). In that moment, Jane saw the truth, only it was too late. Billy had already given himself to Zoe and Jane couldn't acknowledge that she reciprocated his earlier declaration.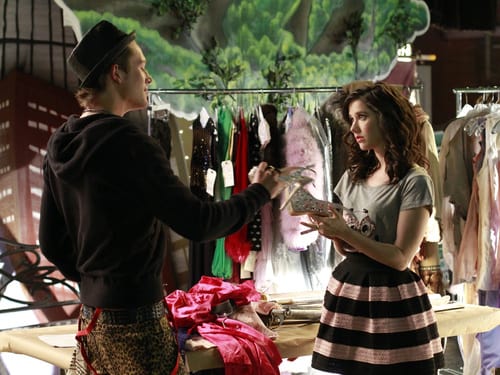 Billy and Zoe have been pretty great together and perhaps he would be better off just friends with Jane. He needs her stability in his life and a romance between them could shake his world apart if they were to break up. That doesn't take away from pain that Jane felt watching the performance on stage. It was written all over her face. As Billy walked off-stage with Zoe, he may have left Jane behind, but he saw her true feelings. He finally realized what she was trying to tell him. Will he ignore it or will the best friends finally confront their true love for each other?
We will have to wait to see if Jane By Design is renewed for a second season to find out. Regardless, these best friends are meant to be together and if nothing else Jane's string of other guys proves it. She's been through Nick, Jeremy and Eli at some level, but it's always been Billy.
It's unfortunate that Jane has been unsuccessful in the romance department because she is a genuinely giving person. She's proved that over and over. In "The Bonus Check" alone she tried to help Jeremy regain his job and even forgave him for his betrayal. Then, she gave her $5,000 bonus check to the drama club to save the play. And her decision to not tell Billy how she felt may have been the biggest gift of all.
If renewed, we would not only get to see more of the Jane and Billy relationship, but also Ben and Rita. This time around will be different for these two lovebirds. It would be fun to see how their relationship works. The first time, they were awkward and had different expectations. Now, I could see wedding bells!
More importantly, we need a resolution to how Jane will get out of her backstage meeting with Gray and Eli. When Gray said, "Jane?" I nearly gasped. Of course, Gray was going to find out Jane was there somehow; it was just perfect. Jane could always say she was volunteering her time and cover her tracks, but perhaps it is time that her secret come out.

Since Jeremy is returning to New York to start his own fashion label, Jane could always reveal the truth to him and go work there. That could be an interesting dynamic Gray and India vs. Jeremy and Jane.
Do you want to see season two of Jane by Design? Were you as satisfied by the finale as I was? It's been a great season and fingers crossed we get more!
Odds and Ends
It wasn't surprising that Rita offered to move in with Jane. That would have been a complicated living arrangement. Too bad we won't get to see it ... for now.
Ben's return was a shock. Even more that he decided to give up his baseball dream. He was so adult about it. In the end, he won. He got Rita back!
Rita's trip to the mound reminded me of Never Been Kissed. Perfect moment.
India is always India. Blackmailing Eli into revealing the truth to Jane was just cruel. Now, that she has found love again with Jeremy maybe she will be a bit nicer. Okay, probably not.
When Jane was talking to Zoe backstage, she didn't seem like a high school student at all. Jane has matured well beyond her peers.
The symbolism of the "glass slipper" was almost too much to take. Billy first putting it on Jane's foot and then on Zoe's foot on stage. Wow. Love is complicated, isn't it?
Carla Day is a staff writer for TV Fanatic. Follow her on Twitter and on Google+.