Between the fast cars, fast women and MMA fighters, HankMed found itself on a high-speed chase to tackle the concepts of "Business and Pleasure" simultaneously this hour.
Royal Pains set a lot of potential plot points in motion this episode, and it's got me wondering which ones will pay back solid dividends.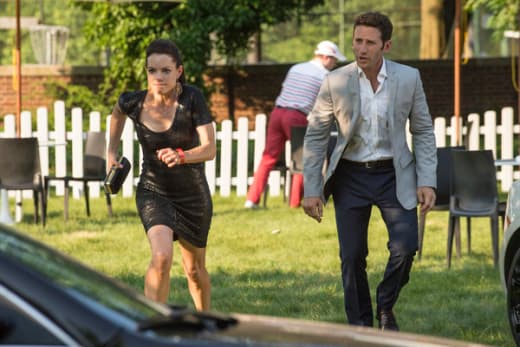 Take the interplay between Boris, Christina and Hank. I was suspicious from the beginning about how quickly Hank and Christina were moving. But how ridiculous is it to think that Boris was using Hank to test out his own level of feelings - or lack thereof - for Christina? Shouldn't he be over her by now?
Honestly, Boris has got a child and a woman who love him already. Why aren't we seeing more of Marissa? Boris should be more concerned about them and less concerned about an old flame. Furthermore, he should be above sabotaging another man's relationship with her. No one can tell me that Boris didn't plant that doubt in Hank's mind on purpose.
Good for Hank that he refused to be on Boris' leash any longer. It was a ridiculous plot point anyway to have Hank on-call like that. About time he drew the line! I just hope it doesn't affect them living at Shadow Pond. We've already done that once - forcing them to move out and all - no need to go there again.
Like I'm sure I've mentioned before, I wasn't a huge fan of Christina in the first place. She came on a little strong and didn't quite seem to the girl-next-door type that I envision Hank settling down with in the future. Plus, I just wasn't a big fan of how fast-moving their little tryst was.
If there is anyone I would have supported a fling with, it would have been Sam, our well-dressed undercover DEA agent. I think she's right up Hank's alley, and I would have loved for her to have hung around for more than an episode!
Speaking of hanging out, I really enjoyed the emphasis on Divya and Dr. Sacani developing a working relationship. Divya has a gentle patience for Jeremiah that makes their relationship fun to watch.
I think Jeremiah's really grown under her tutelage in many ways. He seems to want to try and connect with others on some level. I really hope that it's with Divya's help.
Now I don't want to jump the gun or anything, but what are the chances Dr. Sacani may develop a little crush on Divya? I'm kind of thinking that I wouldn't be opposed to it in the future, even if I don't see him as the love of Divya's life. I don't quite think we've dealt with the close-colleagues-in-love storyline yet. And, no, Hank and Jill don't count! So it might be fun to see play out in some form later on.
Other highlights from the episode:
Evan getting Gelato on the Italian leather seats of that Ferrari. Priceless.
Evan R. Lawson's (brief) moment of glory when he thought he won the Ferrari, only to find out that the winner was named Evelyn Lawson. Great play by the writers on that one. Did it trick you?
Dr. Sacani sharing his epic Ferrari with HankMed. Way to make a BFFL, Jeremiah!
An MMA fighter as emotional mess. What a strange juxtaposition.
Dr. Sacani pulling the fire alarm to keep JJ from crying in front of his opponent.
 So, Hamptonites, Do you think Dr. Sacani is on the path to being the most social guy in the room? Or does he have a long way to go?
C. Charles is a TV Fanatic Staff Writer. Follow her on Twitter.