She's all business on Suits, but she's all about splashing around with Olympic Water Polo players in real life.
In this exclusive interview, Gina Torres opens up to TV Fanatic about the path Jessica has chosen, how she views Harvey Specter and, yes, well-sculpted U.S. athletes...
-------------------------------------------
What made you want to sign on to this show?
They asked me. I had just come off the ABC Family Channel show Huge, me and my wounded little actor heart. I read the script for Suits and saw another, no nonsense powerful woman character, which wasn't strange to me in my world. There was something about her that often times you don't see. She, like the other female characters on this show, was written beautifully. I didn't have to fight to make her human. I had the sense that the writers were going to move in that direction.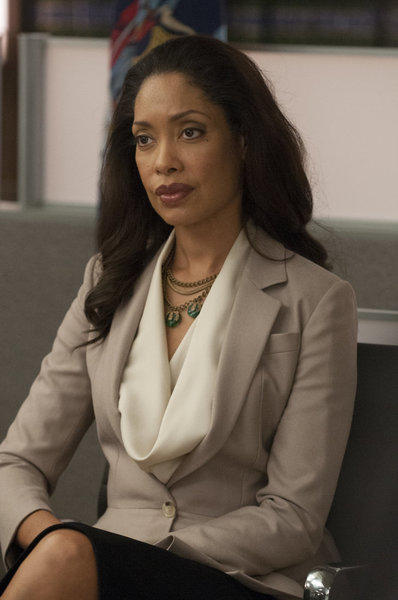 What about Jessica, if anything, do you identify with most?
Most women aspire to be her. She's cool in a crisis, not easily intimidated or rocked, has ridiculous fashion sense. I could learn a lot from Jessica.
Does Jessica think that Hardman's only purpose in returning is to take back control of the firm?
Daniel and Jessica have a very long relationship. Daniel is to Jessica as Jessica is to Harvey. There is a flashback episode coming that sheds some light on that history. Understanding that history will reveal a betrayal that's really deep [for Jessica]. It pulled the veil off of [Hardman] and how his mind works. As much as the audience wants to believe that [Hardman] wants to make amends, and [within the show] Louis needs to believe that's the case, I think we need to all tread lightly going forward.
Was it hard for Jessica to fire Donna, or did she simply see it as a necessary evil?
Somebody had to die is where [Jessica] was coming from. She did something really bad. What's great about this season is that we get to see a little more of Jessica and how she's gotten to where she is and to be who she is. I've always said that no corner office comes without burying bodies. Sarah and I did a lot of different takes, some more emotional, some more straightforward, to get it right… I think Jessica genuinely likes Donna.
How much is Jessica trying to save Harvey and how much is Jessica trying to save the firm? Or is she on some level struggling to balance both?
The firm is what she has. It's her baby. That's her family, and Harvey is part of that family. She doesn't see separation between the two.
If you could be stuck with one of your castmates on an island, who would it be and why? 
We've all come from Toronto to LA to be on the 'Island of Suits.' I couldn't ask for better companions. It hasn't turned into lord of the flies just yet." She's already stuck on an island - and loving it!
The tagline for USA Network is "Characters Welcome." What makes you, Gina Torres, a character?
What takes people by surprise is that I am a lot wackier than people would imagine me to be. What makes me a character is that I'm not afraid to have character, if that makes any sense. I have a public persona that is no-nonsense. I get my business done for myself and my family. But I think in life you should have as much humor and as much fun as you can.
In the spirit of the Olympics taking place in London: If you could participate in one Olympic sport, what would it be?
In the pool with the Water Polo players. Would that be wrong?
Suits airs a new episode Thursday at 10pm/9c on USA Network - and don't forget to follow @SuitsTVF on Twitter.
C. Charles is a TV Fanatic Staff Writer. Follow her on Twitter.