It's not every long running series that gets to plan out its finale to the note like The Closer did, and as fans we had a great opportunity to see a show we love to not only go out on top, but on a unique high with "The Last Word." 
An interesting tactic was to take Brenda someplace she had, quite simply, never been before. The revelations that came to her as a result of the final season pushed her so far out of her normal range that we really got a chance to see someone different as The Closer wound down.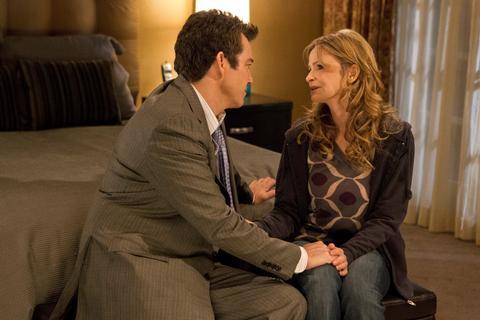 To get to that place, however, some liberties with the man Brenda most wanted to get behind bars - Philip Stroh - were taken. From everything we've learned about him and his repeat appearances, he was nothing if not fastidious. Even in the interview room, he made sure to close the laptop case with his wrists and not his hands to avoid leaving fingerprints.
Does that sound like the same guy who would head off to Griffith Park, obviously a known location for seedy rendezvous and the like to carry the naked body of his latest victim, slung uncovered over his shoulders, for burial? Not so much. However, note to self: never go into the woods of LA at night, as even the most random of spots can be the spot for two simultaneously occurring felonies!
Whatever it was that was driving him to make mistakes, once he started Stroh just couldn't stop. I'd find it difficult to believe that given back of his neck and his extraordinarily specific walk, a court of law wouldn't allow the mall video as evidence, verifying Stroh as the man who approached the latest victim. Maybe that's why I'm not a cop or writing television. 
It was satisfying that both Raydor and Taylor were standing aside to let Brenda get at Stroh. With as much trouble as he and Brenda's fixation on him caused the department, you would have to think they would lay down the red carpet to get rid of the case once and for all.
The connection Brenda made with Rusty, the teen who was left to make a buck off of bad men when his mother abandoned him, was really touching. Of all people for her to relate to on such a deep level, it was a kid who not only lost his mom and just wanted a second chance to make things right with her, but who made his living with all the bad men, and who realized far too young the impact dealing with those men was having on him. It was infiltrating him and becoming a part of him. The relevance of his words were not lost on Brenda.
I don't know how I missed that Rusty had taken the mask during his struggle with Stroh but when Brenda uncurled the hat, I was taken completely by surprise and was overcome with chills. I so wanted Brenda to solve the case I was missing the little clues. I thought for certain Stroh had touched the table in the interview room, so when Brenda ran after him into the elevator like a lion on a gazelle, it took a moment for me to realize she was trying to get DNA from him in any way possible. 
Of course, I had no idea that DDA Hobbs was in on the attack, but what a brilliant setup not only for the case, but for the perfect ending to the series. To jump Stroh like that had to be incredibly cathartic for Brenda under any circumstances, and spending time with Rusty she had already made her decision that the job was no longer for her. When the coroner's door opened and Hobbs was standing there, I squealed. 
A part of me was really hoping that Brenda and Fritz would take in Rusty. Brenda had to know they would never find his mother. When someone doesn't want to be found, they won't be, and she wasn't going to win any mother of the year awards for leaving her 14-year old son behind to live a life of prostitution.
The fight scene between Brenda and Stroh was completely engaging. There had never been a reason for her to do anything even remotely similar in all the years on the job, but damn if she wasn't a little spitfire! With her thighs wrapped around Stroh's neck and punching him in the face; I've never felt such satisfaction at seeing a woman fight back.
Other things of note in this finale episode:
With Brenda leaving, that leaves Provenza as the ranking officer in Major Crimes.
It felt very strange to see Taylor at Pope's desk.
I hated hearing Taylor say it would be best not to remove Brenda's reprimand so they could completely restructure Major Crimes.
The perfect job opened up for Brenda, and taking Gabriel with her can allow us to imagine them living happily ever after.
Finally, I have to mention the gift her guys gave to her at the end. When you think back to how tumultuous their relationships with Brenda were to how they concluded, if you hadn't seen it unfold, you would want to watch every episode in between to see what transpired. Leaving the office with the bite of a Ding Dong? Perfect.
But not nearly as perfect as what the gift symbolized to her, as you can see in this Closer Quote: 
Flynn: Does it look okay?
Sanchez: Chief?
Brenda: It looks exactly like the...it looks like love. That's what it looks like. It looks like love. | permalink
Carissa Pavlica is the managing editor and a staff writer for TV Fanatic. Follow her on Twitter.