The Newsroom season finale brought many of its story lines full circle, while others simply felt like they'd been running in circles all along, which is why I found "The Greater Fool" both entertaining and frustrating. 
Will's depression and pill popping finally caught up with him in a way that no stalker has had the opportunity to thus far.  When, not surprisingly, Mac's ex-boyfriend skewered Will in The New Yorker, he took it hard, ending up in the hospital and contemplating checking out of the newscasts. All of which finally had him asking MacKenzie about his message to her the night he was high.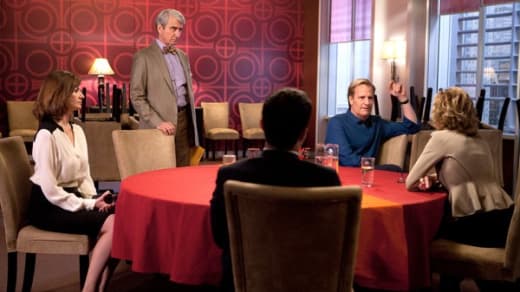 The funny part was that I'd forgotten all about that message. Sometimes The Newsroom throws so much at us in an episode that the some of the relationship details don't seem so important. That is, until Will"s grilling Mac about why she never responded.
But fans of the estranged couple were once again left disappointed. Once Will realized that Mac had never heard the infamous message, he backtracked and refused to relay it to her. Does he have to be high to tell her he still cares about her? Will he ever get over her betrayal? These two seem to have found a professional trust over the season, but we'll have to wait and see if their will ever again be a romance in their future.
The show's other relationship merry-go-round left me dizzy. Sloan told Don she had feelings for him but he ignored that and asked Maggie to move in with him instead. Maggie admitted she had feelings for Jim, which climaxed in the two star crossed non-lovers sharing a kiss but then she said yes to Don. Jim then lied to Lisa to keep from being alone. 
Wow. That was one wild ride that dropped us off almost back where we began... with Jim and Maggie still pining for one another but choosing to be with someone else.
And I'm still left wondering if Don really wants Maggie or does he only want her because he knows there's competition? I believe Sloan's right. He likes her but he doesn't love her and he's forcing this because he thinks it's the right thing to do.
I used to root for Jim and Maggie but I've grown tired of going in circles. Even though all of these characters, even Maggie, have grown on me throughout the season, I'm tired of watching them end up back in the same place.
The one highpoint in all of this was Maggie ranting at the Sex and the City bus at the inanity of Carrie Bradshaw making the money she did to buy her Manolo Blahniks while writing a column for a no-name paper. That always bugged me too.
Back in the newsroom, Solomon's suicide was sad, especially since at least part of the reason he did it was that he thought Charlie wouldn't use his information. 
I did wish the meeting with Leona felt a little more climatic. I never really felt that Will was going to be fired and I really wanted to see smarmy Reese go down in flames. In the end, he didn't even get a slap on the wrist. But I do wonder if this story is over.  Nina may have deleted that file but she didn't securely delete it. It could easily pop up again in the future.
Over at the anchor desk, Will's newscasts - or shall we call them monologues? - left me a little disconcerted. I'm game for using the quotes of politicians as fodder for entertainment, especially since so much of what is said is worthy of a good eye roll, but I'd be happier if Aaron Sorkin balanced it out a little more. 
Using Will as the Republican to bash Republican's makes me feel like I'm getting hit over the head with Sorkin's soap box every week. Can't we look for some of the ridiculousness on the other side of the aisle every now and again, just for the fun of it?
After 10 episodes of The Newsroom, I'm a definitely fan. I've been frustrated by some of the characters and although the political slant is often over the top and the revisionist newscast history can be questionable, I've still found it highly entertaining.  Sorkin has taken me on a roller coaster ride this season and now that it's done, I'll admit that despite the highs and lows, I'm ready to buy a ticket to ride it again next summer.
C. Orlando is a TV Fanatic Staff Writer. Follow her on Twitter.