Let the guessing games begin!
The CW (courtesy of TV Line) has released the first photo from this October's Vampire Diaries Season 4 premiere, and it depicts Jeremy and Bonnie seemingly locked in a spell of some kind.
To what end? Theorize away as you take a close look at the scene: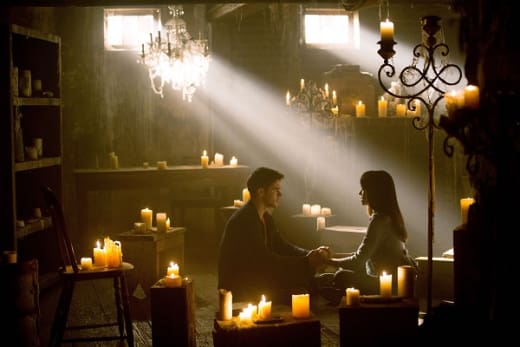 The last time this former couple interacted, of course, Bonnie was using her magic to fake Jeremy's death. She then took it upon herself to help Klaus live inside the body of Tyler.
Oh, yes, the resident Mystic Falls witch has "tapped into some darker stuff," as creator Julie Plec previously teased, and the question now remains: Will she continue down this dark path? How far might she go?
Just a couple more questions to ponder, spurned on by this early look, as we anticipate the return of The Vampire Diaries on October 11.
Matt Richenthal is the Editor in Chief of TV Fanatic. Follow him on Twitter and on Google+.