If there was ever a time I questioned the solvency of White Collar's momentum, tonight's episode put some plot lines in "Compromising Positions."
Between the renewed suspicions forming between Peter and Neal, to the literally speechless moment that found both Elizabeth and Neal coaching Peter and Sara how to conduct a convincingly steamy affair, I was at a loss at how to even begin evaluating this hour.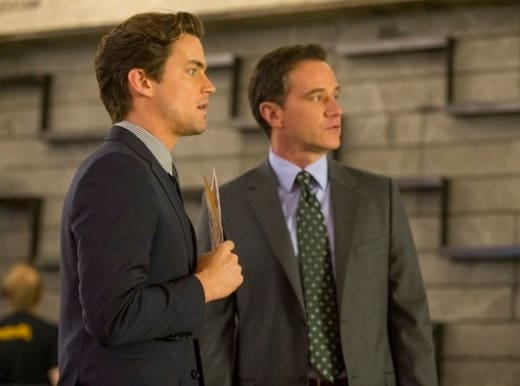 This week's White Collar promo had me convinced that this installment would uncover much about Sam and potentially Ellen's murder. Much to my chagrin, the clips they chose were simply the ones that included Treat Williams. These moments, I might add, added up to a grand total of 1% of the episode as a whole.
Instead, we found ourselves in an unnecessarily complicated plot involving a compromised attorney who needed infallible evidence to convict a criminal. Leave it to Peter to have to save his own case from incompetent counsel.
One feature of this episode I found particularly entertaining was the introduction of the very feisty corporate consultant who seemed to know exactly how to push everyone's buttons. Who knew she was following Mozzie? Was she really that good?
I struggled with whether or not she was threatening Peter there at the end, taunting him about how he could stay above the law when everyone around him seemed to break it. Then again, that is how it seems to work in a lot of ways, isn't it?
Neal and Peter's relationship is in some ways tailor-made for Neal to be the law-breaker to Peter's law-abiding G-man. How else did she think it worked? I'm more interested in whether or not she may be making a repeat appearance to bail Peter out of something in the future.
Speaking of their relationship, I was quick to begin judging the re-emphasis on the tensions between Peter and Neal being reignited... until I realized that its place in the plot was legitimate. Neal does want to see this illusive Sam character again, but is struggling with putting Peter in the bureaucratic crosshairs, given he has only recently been reinstated at the bureau in full. I wasn't at all surprised to find that Peter had followed Neal and snapped a few photos of his encounter with Sam.
As for the photos, it's possible that the scene with Neal, Peter, Elizabeth and Sara - both in the course of explanation and actual execution of the racy shoot for the sake of the case - could go down in White Collar history as one of those moments that defines a partnership and friendship amongst these four characters.
To say that I pegged El as someone who would have willingly facilitated and directed a steamy moment between her husband and another woman for any a reason would have been beyond the realm of comprehension.
Apparently Sara does something with her leg that Neal found at least important and salacious enough to have her do with Peter. Similarly, Peter seemingly likes it when El whispers in his ear. It says a lot, though I struggle to articulate exactly what that is, about a relationship and group dynamic when things like that can come out without judgment and the parties involved keep doing what they're doing. It's quite a thing to experience.
I was a little disappointed that after all the hype about Williams that his role was minimal. I am trying to figure out whether he is going to be of any help to Neal, regardless of whether or not the FBI is involved.
Other episode highlights:
The Hangover references courtesy of Mozzie and the "Swiss army knife" baby that embodies every tool necessary to do anything.
Neal testifying in court.
Neal performing a scientific test for the jury's benefit.
Sara returning to the show.
So, Collars, it appears that Alex will be making her much-anticipated return to the show. What do you think will happen when these two cons get togther this time?
C. Charles is a TV Fanatic Staff Writer. Follow her on Twitter.