White Collar continued its winning streak of smart, sophisticated and gripping episodes in its fourth season. No one can ever accuse this show of suffering an "Identity Crisis."
From Mozzie's uncompromisable belief in the idea of his parents being spies to the unfathomable conspiracy that unfolded before his eyes, there was no question that this episode had National Treasure written all over it!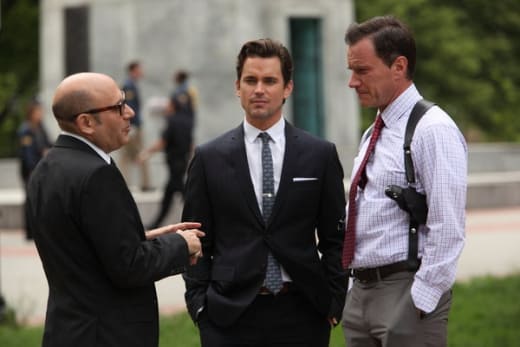 I fancy myself quite the Revolutionary War buff, but White Collar had something to teach me that even I didn't know. Raise you hand if you were privy to the existence - contested or not - of the famed Culper spies? Let alone contemplated their modern-day existence?
The National Treasure theme was a great fit for this show and this cast, and it was executed it brilliantly. They really could give Nicolas Cage and company a run for their money.
I love that it started with Mozzie and June partaking in a storage wars-like bidding environment. Leave it to Mozzie to bet on the place with the most unexpected connections and history, stumbling upon one of the nation's biggest and perhaps best kept secrets in the process.
From numbers and code names to the interesting connection between descendants and the Culper legacy, this was a well-crafted and quite fascinating twist on a treasure hunt.
One particularly striking element of this hour and its unfolding was the insight it provided into Mozzie's past and his closely guarded beliefs about the parents that left him behind.
It seems that both Neal's and Mozzie's pasts are coming, in some respects, to haunt them, and perhaps even launch them into greater understandings of themselves and their relationship to one another. The best part is, if pursued as strongly in Mozzie's case as in Neal's, they will be taking the journey of self-discovery together, strengthening the bond they already clearly share.
Congrats to Channing Powell for a great episode; we look forward to more of your brilliant work in the future. Similar props to Willie Garson for an episode that simultaneously proved how quirky, conspiratorial and sometimes unconventional Mozzie is while also making him more human and relatable.
Other highlights:
Neal claiming to be a descendant of George Washington. "I cannot tell a lie?" Oh, how much could be said about that, Neal...
Jones claiming to be a descendant of Thomas Jefferson. Well played, sir, well played.
Mozzie's family story shadow puppet show. Best talent ever.
#355, for lack of a better word, actually being a spy!
Mozzie being right that #355 escaped with the flag.
The elaborately staged infirmary, painting, peepholes and all.
Next week sees Peter and Sara undercover. What could have possibly brought these two together, and in such interesting circumstances? We'll certainly be tuned in to find out!
What did you think about the hunt for a national treasure? Do the Culpers really exist today?
C. Charles is a TV Fanatic Staff Writer. Follow her on Twitter.