"Parting Shots?" Hardly! White Collar is only getting started.
Sara Ellis returned, Peter got his job back and the mystery surrounding Neal's father deepened on this week's installment of the USA Network hit.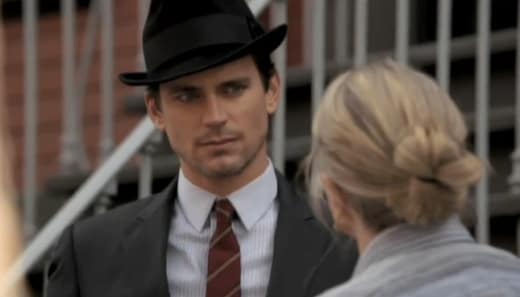 I have to say that I was disheartened by what may or may not be Ellen's premature demise. I was really looking forward to getting some information about her and Neal's time in WITSEC. I certainly didn't want to have her leave so soon.
First, Neal chased after the ghost that was Kate, now he'll be chasing after another ghost named Sam. How will Neal find him, and where will he even begin to look? This story gets more and more intriguing the further we get into it.
One epic aspect of this episode that I can no longer wait to acknowledge was the return of the ever-fabulous Sara. I don't know what it is about that girl, but I just love her. I don't just love her character either. I love her style.
What I think I'm really going to like about Sara's return is their mutual search for who they are to some extent. Sara got into the business of finding things, likely as a result of her sister Emily's sudden disappearance. Now here Neal is looking for someone to tell him the truth about his father. It's something their going to share, if even for a brief time. Word on the street is that Sara's return will only span about three or four episodes this season. Too short if you ask me.
Then there's the fact that Peter finally go this job back! Welcome back to the White Collar division, Peter! We all knew it was coming. We just had to believe it would be sooner rather than later, and with Agent Peterson constantly hounding him, it's no wonder we thought we might have to hold out hope a little bit longer.
How about that case? And to think it all started with Neal's epic heroics to save the beautiful heiress from kidnappers. Way to go, Neal! Their episodic romance was also believable. I actually thought they would make a good couple - at least they would have if Sara hadn't returned.
As much as I hate the idea of Neal having such a weakness for pretty women, Sara is one I wish he would stay with in a long-term relationship somewhere in the future. I really think she gets him, and that's really special.
This hour also saw a lot of guns being pointed at Neal. That was distressing to some fans on Twitter, but I to see Neal keep working through the problem with a cool head was genius.
Other highlights from this episode:
Mozzie's eagerness to help Ellen with her Forget-Me-Not's.
Sara returning to the show.
The impeccable fashion sense Sara brought back with her.
Neal, Sara, Elizabeth, Jones, Diana, Peter and Mozzie all celebrating Peter's return to White Collar with a toast. Love seeing the ensemble cast all together at once!
Now we have to wait two weeks to see what's next for our White Collar crew. In the mean time, we can ponder this question: Do you think we've seen the last of Ellen?
C. Charles is a TV Fanatic Staff Writer. Follow her on Twitter.