Ryan Newman's second biggest secret caused a lot of dominoes to fall in "Truth." Announcing his love to Amanda not only led to her admission of feeling the same and deciding to move in... but it eventually broke them up as well.
Despite the title of this season premiere, Ryan still hasn't made much progress. As his prize for winning the game against Bruce explained, Ryan was playing a ridiculous game with his neighbor's dog and what may or may not be an imaginary crazy person in a basement that might not exist for 12 hours!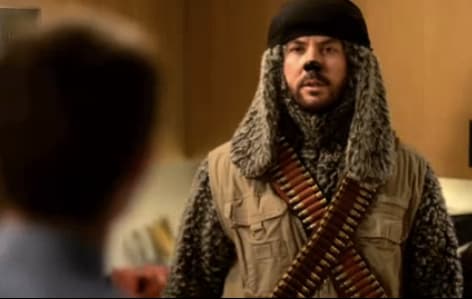 Those are the types of activities he wouldn't want others to know he engages in, especially someone he cares about. So Ryan went with the old adage of "setting those you love free." If Amanda comes back to him, and he has figured his life out by then, the two might actually make it.
If that ever happens, it will likely be after the series is over. Wilfred doesn't work if Ryan has it all together. If he's not seeing his neighbor's dog as a crass talking Australian man, there is no show. That's why episodes like "Truth" are so important. It affirmed the fact that this is Ryan's problem, and it's not going away any time soon.
Although the Wilfred mythology continues to make us think week in and week out, the pure comedy is always abundant as well. The most hilarious moments of "Truth" may have been how ridiculous the game was that Bruce and Ryan played for 12 hours.
Looking back, it makes total sense that the games were completely inane. The whole point of the game, after all, was to waste Ryan's time to prove to him how crazy he is. Between Ryan balancing things while getting hit with a sack, the two of them having long white beards, Ryan reading upside down while Bruce slams trash can covers together, and poor Ryan getting a pot of pasta dumped on his head, the game had me cracking up for a couple of minutes straight.
Like the time Bruce showed up in season one, his appearance here only kept it confusing. Is he simply a figment of Ryan's imagination? Is there a reason for the times he comes by? Is he actually a person that is as messed up as Ryan? "Truth" didn't seem to bring any answers to those questions, but it might have foreshadowed something big for the future of Wilfred.
Throughout the half hour Wilfred was talking about something horrible that was on its way. It wasn't Ryan telling Amanda he loved her, it wasn't the earthquake that didn't actually occur, and it wasn't Ryan eventually breaking up with Amanda. As the two buds looked out into the abyss, it was evident that the disaster may indeed be coming. Is that what ultimately causes Ryan to figure everything out?
There were plenty of great lines from "Truth." Check out the best ones in our Wilfred quotes section, and then come back to let us know what you thought of this week's episode in the Comments.
Dan Forcella is a TV Fanatic Staff Writer. Follow him on Twitter.