Bones returns two weeks from tonight on Fox.
As we know, Brennan the fugitive will be on the lam, and a furious, reeling Booth is left pondering his next move. But according to the official episode synopsis, an anonymous tip might provide the answer.
When Bones Season 8 gets underway Sept. 17, the synopsis reads: "Having been accused of murder, Brennan (Emily Deschanel) is on the run from the FBI, with help from her father Max (guest star Ryan O'Neal)."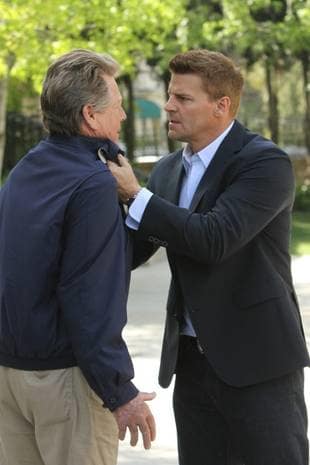 Booth (David Boreanaz) and the Jeffersonian team are convinced evil tech genius Christopher Pelant (Andrew Leeds) has manipulated key evidence in the case to pinpoint Brennan as the prime suspect."
"Then, an anonymous tip leads the team to the remains of a high school guidance counselor that may hold the key to proving Brennan's innocence in the all-new season premiere, 'The Future in the Past.'"
We know from the new promo that Booth does track her down, but how?
Who do you think might provide that tip, and how do you think it might clear Temperance's good name (and hopefully allow her to rid herself of her short, blonde hair disguise)? Sound off in the comments!
Steve Marsi is the Managing Editor of TV Fanatic. Follow him on Google+ or email him here.