Covert Affairs Producers Address "Really Big Move," What Comes Next
Matt Richenthal at .
What. An Episode.
If you have not watched last night's Covert Affairs, stop whatever you are doing and rectify that problem right now. If you care at all about shock, deception and a major character death, that is.
For those that are still catching their breath from "Glass Spider," co-creators/executive producers Matt Corman and Chris Ordeaux talked with TV Guide about what the former describes as the show's "really big move." Read on for excerpts from the interview...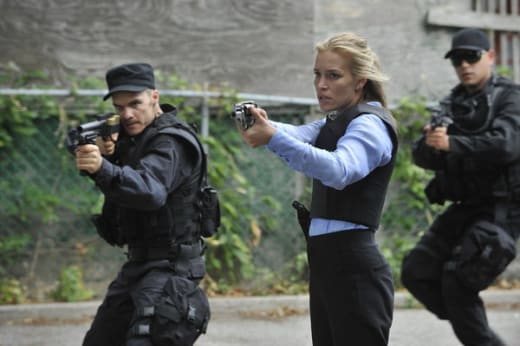 Is Lena the FSB double agent? Yes, says Ordeaux: "It's not even about ideology; it's about self-fulfillment and finding power. When you're a double agent, you're in a position of power because you can know what both sides are doing. I think for her, it feeds into that. She has a need for power."
Why did she try and kill Simon/Annie: "Both Simon and Annie are great spies and the fact that they were running off together, or at least considering it, they would've figured her out eventually," says Corman. "They're just too good as spies to not. I think Lena recognized this couple was a threat to her cover and she needed to take care of it before they figured it out."
What is Lena's grand goal? Teases Ordeaux: "We'll learn more about her in the fall half. The next two episodes answer some questions, but also ask a lot more, so the back six [episodes] will explore more of Lena. And this didn't just start with assigning Annie to Simon; she's been a double for years."
Will we learn more about Jai's Simon-related investigating? Yes, says Corman: "Jai had a number of missions that were corrupted by the Russians, so clearly information was leaking out of Langley to the Kremlin, and the Kremlin was getting people like Simon to disrupt those missions. We'll learn more in [episode] 10."
Matt Richenthal is the Editor in Chief of TV Fanatic. Follow him on Twitter and on Google+.