Simply put, the Dexter Season 7 premiere is tremendous. Top-notch. A true, legitimate, fascinating game-changer.
It features Michael C. Hall at his best and Jennifer Carpenter at her best and wipes away all memories of the abysmal sixth season, picking up with that final scene (Oh God...) and taking viewers on tension-filled journey that will leave them dying for the following Sunday night to arrive.
Without giving too much away, here's an idea of what you can expect from "Are You..." on September 30: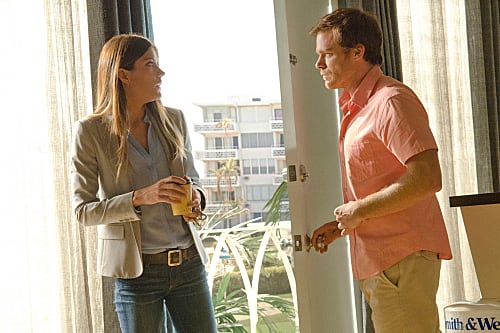 A major character will be killed.
We'll flashback to Deb and Dexter as children.
Louis will make himself even creepier than usual.
LaGuerta will find a piece of evidence that could spell doom for Dexter.
We'll spend a few moment in the Ukraine.
Quinn will reveal a secret to Batista
The title of the premiere will refer to a question Deb asks her brother.
Matt Richenthal is the Editor in Chief of TV Fanatic. Follow him on Twitter and on Google+.