After having spent the day next to statues the likes of those naughty baby angels and their adult friends, the goings on in "The Angels Take Manhattan" didn't surprise me one bit.
It's easy to forget, being from the middle of the United States, that you can find historical buildings and statues in New York. That gave the film noir approach a sense of novelty that I quite enjoyed.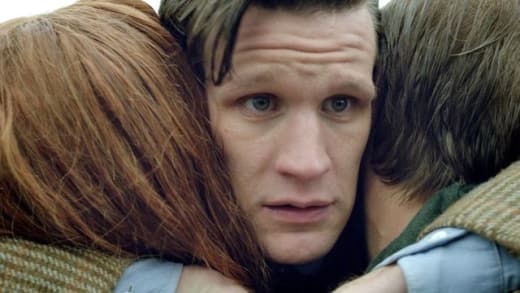 The foreboding was innocent enough. Amy needing reading glasses and a couple jokes of lines about her eyes. It was only later when River Song said to never, ever let him see you age that the ending of the book became a bit more apparent. Amelia's Last Farewell.
Honestly, I was lost throughout so much of the episode. The loop in space and time was unlike anything ever portrayed and I couldn't figure it out. The angels keep their victims in the building and feed off of their time energy. That's how Rory ended up ancient, dead and alive at the same time.
I wondered why they just couldn't rewrite the book, but I guess that's the whole point of time paradoxes, isn't it? They don't quite do what you want them to do, and even in the end, when River was so sure she had it worked out, Rory and Amy dramatically plunging to their deaths to reverse it all still ended up biting them in the ass.
When Rory looked at the headstone, I knew his name would still be on it, but I never guessed the choice to leave The Doctor would be so different than their decision to just retire and let him move on. I keep thinking that Rory will never see his dad again. Surely The Doctor will tell Brian Williams what happened to his son, yes? At least now, after what they've been through recently, he will be able to believe it.
While the focus of The Doctor not travelling alone continued to be driven home, it lost some of it's significance knowing Amy and Rory had started their lives over in 1938. There wasn't a clearly cut move putting him in that place, and if he had his way, being alone wouldn't be in the cards. Be sure to read the Doctor Who quotes, as there were some great lines this week.
River knew she had to give the book to Amy to publish, so it would seem her future will include visitation with her parents. If so, why is the result so radically different for The Doctor? Forgive me my ignorance, as I do have it when the mythology of The Doctor is present. 
Was it a fitting end for Amy and Rory and their friendship with the Doctor? Based upon the ending, will Amy continue to loop through her live over and over with the same results, always ending in the same place, or might different paths take her to another final destination? Yes, these are the things I will ponder as we await the Christmas episode and the introduction of Clara. 
Discovering who Clara will be and if she'll be somehow connected to our friendly, teary souffle baking Dalek does give me some peace. What did you feel about the finality of Amy and Rory's story with The Doctor? Out of left field or fitting end? Take to the comments to discuss!
Carissa Pavlica is the managing editor and a staff writer and critic for TV Fanatic. She's a member of the Critic's Choice Association, enjoys mentoring writers, conversing with cats, and passionately discussing the nuances of television and film with anyone who will listen. Follow her on Twitter and email her here at TV Fanatic.