Well, Glee, that was better than last week, probably because it wasn't a tribute episode. But it wasn't great. It did serve as a nice set-up for upcoming story lines, I guess, so there's that.
If I'm being honest, and that's what I'm here to be, I found myself incredibly underwhelmed with almost everything except the last 10 minutes of "Makeover." I was happy to see the focus shift to the old school club members, but tonight not even the Glee music was very fun.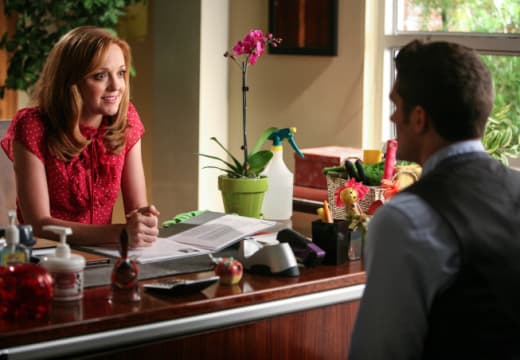 So much of the high school story felt like reheated leftovers, but I was happy to see attention return to our old cast members instead of the new class.
Watching Blaine struggle with feeling left behind by Kurt when he gave up his life to move to McKinley was one of the highlights because it felt the most real. I get it. Kurt's in New York and living this new, exciting life and Blaine is back home in Ohio living Kurt's old life at a school he didn't even attend before meeting Kurt with friends who weren't his.
There are bound to be issues. Jealousy, anger, abandonment, sadness. I felt bad for the guy, honestly. Blaine is one of the characters I've come to care about the most. 
I don't like that Blaine and Kurt's relationship appears to be on the rocks. The set-up for their issues is essentially the same as Brittany and Santana's except we got to see Kurt actively avoid Blaine in favor of his new life. Tonight proved to me that of all the couples on Glee, this is the one I care about the most.
Sarah Jessica Parker as Kurt's mentor, Isabelle Wright, was nice. The character is just quirky enough to fit in on Glee. The idea that Kurt could pursue fashion instead of music is an intriguing one, and at least one of them has to change majors, right? Or maybe he'll find a way to go after both. (Isabelle's advice to Kurt can be found on the Glee quotes page!)
Tonight, for the first time, the Brody-Rachel relationship felt slightly less forced. Just a little. Don't get me wrong, Brody's coming on incredibly strong in a way that doesn't make a lot of sense, but here I believed that Rachel was seeing herself in a new light for the first time. That was the point of the "makeover," right? To help her view herself in a new way? I'd say it worked, and it allowed me to see what Brody's seeing in her. The Finn-spotting at the end of the episode did leave me eager for next week.
What didn't work?
Any of the musical numbers. Seriously. While the vocals on "The Way You Look Tonight/You're Never Fully Dressed Without A Smile" were great, the mash-up was bizarre. The same goes for the arrangement of "A Change Would Do You Good." That's not a sexy song, and it's not a loud rock anthem either.
Will becoming so bored with his life that he's applying to join a Blue Ribbon panel and will leave McKinley if accepted. Unless, of course, Jesse St. James takes over the glee club, in which case, apply away, Will Schuester.
I can't even be bothered to care about the elections, really. They're a pointless attempt to make it seem like life at McKinley is typical, high school life, and I know we've rehashed all the ways it's not realistic before. There were plenty of other ways to show that Blaine is unhappy now that Kurt is in New York.
Overall, I was only sort of impressed tonight. I enjoyed the show, but I always enjoy it. It's an hour of escape from reality. But I want to love it, week after week.
What about you? Do you think more change could do Glee some good?
Miranda Wicker is a Staff Writer for TV Fanatic. Follow her on Twitter.