Finally!
After months of waiting to see how our favorite dysfunctional doctors would handle the tragedy of the Grey's Anatomy Season 8 finale, the drama returned with "Going Going Gone." It was filled with a whole lot of emotion and a handful of laughs. It was reminiscent of previous seasons. It was... great.
Shonda Rhimes, how do you do it? How do you manage to keep the fans so invested after so many seasons? And more importantly, how do you manage to throw a curve ball like you did at the end of this hour? Let's get to it.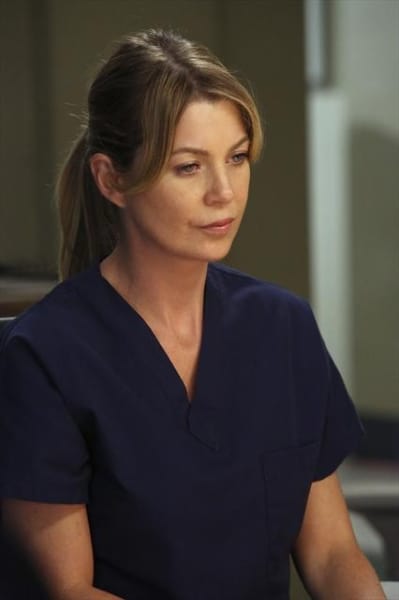 RIP McSteamy. The majority of the episode was centered around saying goodbye to Sloan. His wish was that after thirty days of no changes, he would be removed from the machines keeping him alive. What an emotional send out. Derek and Callie stayed by his side while the others waited outside of his room. 
In no way was I ready to say goodbye to this character. He brought a spark to this show that it badly needed. Not to mention, he was freakin' gorgeous! Eric Dane, I will absolutely miss you on my television every week. At least we have the infamous "McSteamy" picture to look back on.
Although it was sad to see him go, the writers made a smart choice in killing off the character versus having him just depart. There is no way that Sloan would have left Callie and Arizona with his daughter by choice. He was a good father and wouldn't have left that baby. 
You have to love the video footage shown throughout the hour of Sloan. He really did change the lives of Derek, Callie and Avery. Now admit it: how many of you cried? I knew I wasn't alone!
Meet Medusa. There is a new crop of interns at Seattle Grace and Meredith is the attending to fear. Nicknamed "Medusa," Grey is showing them the same way she learned from Bailey. She even did the intern appendectomy with one of the new recurring cast members, Camilla Luddington. 
Who else is thrilled about Gaius Charles becoming part of this already awesome cast? Charles is an amazing actor and anyone who has seen Friday Night Lights knows exactly what I am talking about.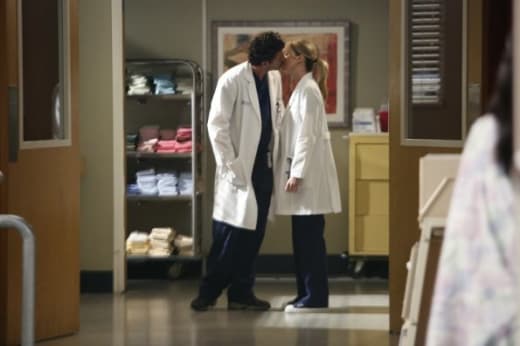 Trouble Taking Off. Cristina is off in Minnesota dealing with Mr. Feeny Dr. Thomas and his endless stories. Girlfriend is told she needs to become a team player because she is not fitting in. Good! Send her back ASAP! Yang makes plans to fly to Seattle, Grey makes plans to fly to Minnesota. Neither make it. I can't imagine how hard it would be to get on a plane after what they went through. Alex doesn't make his plane either, following a sudden decision to stay at SGH after meeting Dr. Barnett, Arizona's replacement. 
The gang is almost all back together... even April. I have to admit, I didn't even realize she wasn't in the episode until Owen showed up at her farm. Did anyone else miss her?
Shocker! After keeping Arizona's arc out of the spoilers all summer, we learned that Robbins lost her leg due to the plane crash. Who saw that coming? Like I said, Shonda did it again. This will definitely make for an interesting dynamic with the other characters. 
Side Notes:
Although cleared for surgery, Derek said his hand went numb. Did it really or was it nerves over operating and losing his best friend?
Love, love, love Meredith and Cristina's facetime sessions. Especially when Cristina was watching the "trainwreck" of a surgery.
Bailey's no longer the Nazi! Say hello to Booty Call Bailey.
Just one quick mention of the late Lexie. Did anyone miss her? How about Teddy?
Overall, a solid episode back.
Grey's Anatomy
always knows how to bring the drama and they did not fail in the Season 9 premiere. What did you think, TV Fanatics? Was it a good follow up to "
Flight?
" 
Sound off below and let us know.
Check out the
Grey's Anatomy quotes
page for awesome one-liners from Yang and the others, check back later this week for the first
Grey's Anatomy
Round Table of the new season, and watch next week's
Grey's Anatomy promo
!
Until next time, Grey's fans! And more importantly, welcome back!