Welcome back to TV Fanatic's Grey's Anatomy Round Table!
Our Grey's Anatomy season premiere review broke down "Going Going Gone" in great detail. Now, TV Fanatic staff members Courtney Morrison, Sean McKenna and Christina Tran have assembled for their weekly Q&A discussion.
Read their answers below and weigh in with yours!
----------------------------------------
1. What was your favorite scene from the premiere?
Courtney: Tough one. On the emotional side, definitely Derek and Callie holding Mark's hands as he passed away. On a lighter note, I loved Cristina FaceTime-ing with Meredith and talking about what a train wreck of a surgery she was watching. It doesn't matter what city you put that girl in. She is always going to be funny.
Christina: I probably cried the hardest during the scene with Mark holding Sofia. I'm a sucker for emotionally-draining moments though so that scene was my favorite. It was all just so utterly heartbreaking.
Sean: There were a lot of good scenes, but I liked when Alex came back to sit at the bar with Meredith. Not only did it lighten her up, but it reaffirmed the bond the original cast had, even if Christina was on the iPad screen.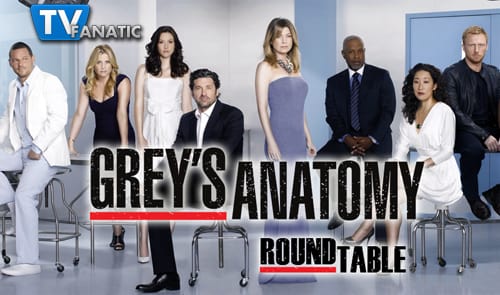 2. There's a new set of interns. Do you care at all or are there already enough members of the cast?

Courtney: I don't care too much about the interns, we have enough people to focus on already. But like I said in my review, I am very excited to see Gaius Charles on the show.
Christina: Like Sean, I'm cool with the interns because it gives the us the opportunity to see the residents in such a different light. I mean, Meredith as Medusa is going to be awesome. Also, it appears we are all FNL fans here. Can Taylor Kitsch aka Tim Riggins come on board, too?
Sean: There are a lot of cast members aren't there? I don't mind the interns as it gives the current cast a new role to play, but we'll see how they're utilized. Although, I am a Friday Night Lights fan, so like Courtney, I'm excited to see what Gaius Charles will get to do on the show.
3. How long until Cristina returns to Seattle Grace, if at all?

Courtney: Cristina has to return! She doesn't really fit in to well in the hospital of happy faces and team work, does she? It's only a matter of time until she misses the dysfunction and mess back in Seattle and returns home to her person and Owen.
Christina: I'm thinking we see Cristina back where she belongs in Seattle by episode three.
Sean: She definitely will come back. She has to. Alex stuck around, so it's only a matter of time where she decides she needs to go back to her original crew. That said, it will be interesting actually getting to see her at her current hospital. I mean, she gets to work with Mr. Feeny!
4. Arizona lost her leg! What effect does this have on her relationship with Callie?

Courtney: This totally blindsided me! I kept wondering where she was the whole episode, and up until the end, I thought she might have died. Arizona is definitely angry with Callie about it and this is going to cause some major problems. Especially since Callie is the Ortho Queen. If anyone would have been able to save her leg, it would have been her wife. Arizona will definitely return to work, but she will no longer be the fun peds doc that roller skates around. I'm guessing this changes her outlook quite a bit and we will be seeing a different side of Dr. Robbins.
Christina: I swear my jaw dropped. Poor Arizona! I hope she can find the strength she needs sooner than later because it seems as though Callie is going to need her more than ever. Vice versa!
Sean: I had a feeling she wasn't dead despite everyone saying sorry to Callie, especially when no other person actually said Arizona was dead. Losing a leg, dealing with the plane crash, etc. is such a hugely dramatic change that I'm not sure they might be able to have their relationship survive. It's tense enough that it's hard to see the love they once had. It's going to be a tumultuous ride for them.
5. Goodbye, McSteamy. Bid farewell to one of the hottest docs to ever grace our screens.

Courtney: Mark Sloan, you were a great doctor, teacher, and friend. It was way too soon to say goodbye to you, especially since you leave behind two daughters. But you made your mark in Seattle and you will always be remembered. Your chiseled jaw and gorgeous eyes will never be forgotten. Your infamous "McSteamy" scene will keep you living on forever.
Christina: McSteamy, I miss you so much already. It really just won't be the same without you. I can't say that I ever cared too much for episodes with ghosts, but my mind is suddenly changed. I'd love to see you and Lexie together again someday.
Sean: Damn. Still kind of can't believe he died. Mark Sloan, you were the charming, cocky, charismatic doctor with just as much heart as you had in the ability to pick up chicks. There was a reason you were called McSteamy and a reason you headed up the infamous Plastics Posse. You had an impact on everyone, so trust me, you'll never be forgotten.
What do you all think of the premiere? Share your responses in the comments below!