A new photo has surfaced online, purportedly from the Grey's Anatomy Season 9 premiere.
What's not to love about a tender MerDer moment, after what they've been through?
Exactly.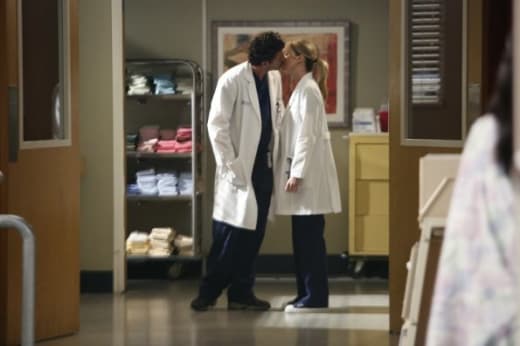 Notice that while kissing his wife in the hospital hallway, Derek's hands are hidden ... maybe we're reading into it, but this could be in line with the theory that he's recovering from his crash injuries.
Figuring out how to regain his top-notch abilities as a doctor is expected to be one of the big storylines for Derek this fall, as well as being a "happy, sexy couple" with Meredith in this "Year of Romance."
Shonda Rhimes' words, not ours!
"One of the things I said to the writers was, 'I want a lot more romantic scenes. I want to see that Derek and Meredith are a happy, sexy couple,'" Rhimes tells TV Line. "They basically settled down in a lot of ways."
"They are very settled. They're married, they have a child, and they're both working. I want to see what that means for them as a couple and how they, against the odds, manage to keep that relationship sexy and fun."
"So we're playing with that and it's been really fun."
September 27 can't come fast enough.
Steve Marsi is the Managing Editor of TV Fanatic. Follow him on Google+ or email him here.