Three years ago today, The Vampire Diaries premiered on The CW.
In celebration of that event, and with just over a month to go until The Vampire Diaries Season 4 kicks off, executive producer Julie Plec has taken to Twitter to list her favorite TVD episodes by order of their air date.
It's an interesting, fun list. Read through it below and then try to name your top hour in show history...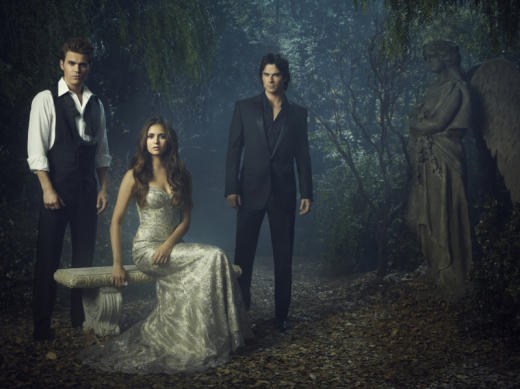 SEASON ONE
Friday Night Bites -- for our first understanding of who Damon was and who was he going to become.
You're Undead to Me: for Mads Langer's 'Beauty of the Dark' montage, brought to you by @TheJoshuaButler, ending with 'What are you?'
Lost Girls for @kevwilliamson at his finest: Damon and Vicki.
History Repeating: because Marcos directed it w zero prep during the darkest time of Season1 and it rocked, & for football brother-bonding.
Let the Right One In: because it proved our crew could do anything -- but that they would kill us if we ever made them do it again.
Founder's Day: because we made a feature film in 10 days. And because of that whole Katherine thing....
SEASON TWO
Plan B: To this day one of my Top 5. First major act 6 sob-fest of the season. And Katherine at her most diabolical. RIP Uncle Mason.
Masquerade: another @kevwilliamson gold medal: breaking Aimee's spine on the dance floor.
Katerina: @ninadobrev at her greatest, the first mention of Klaus! (honorary mention, Rose: for our first intro to the Gillies aka Elijah).
The Descent: most I've cried watching the first cut of an episode. Still gets me every time. RIP Rose.
Klaus: never was an episode full of exposition so well-executed. And because the Sun and Moon Curse was fake.
SEASON THREE
The End of the Affair. @carolinedries and @chrisgrismer outdid themselves, and @verschoo let them do it. A mini-movie.
The Reckoning: might be my number 1 favorite episode of the whole series.
Ghost World: because every now and then it's okay to just CRY. And for @tyleredits using This Woman's Work while Anna reunites w her mom.
Our Town: editor Lance Anderson at his best. Because we already knew when Elena and Matt stood on Wickery Bridge how the season would end.
Do Not Go Gentle: "Be Still", @ErnestoRiley.
Matt Richenthal is the Editor in Chief of TV Fanatic. Follow him on Twitter and on Google+.