Leverage Review: A Sterling Reputation
Jim Garner at .
As the counterpoint to the first half of this week's two-hour summer  finale, "The Frame-Up Job" featured only Sophie and Nate – along with the return of Jim Sterling, everyone's favorite Interpol agent.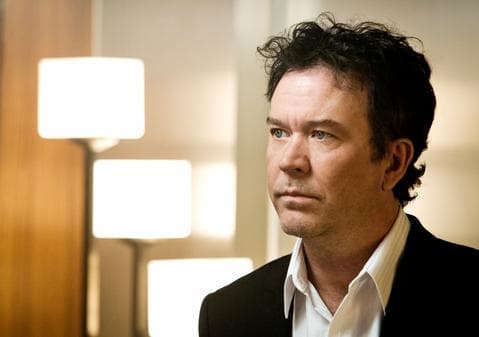 I'm curious: does anyone know when Jim Sterling turned into Robert Palmer? Every one of his agents was an attractive woman with no facial expression. Honestly, had he started humming "Addicted to Love" I wouldn't have been surprised at all. 
His choice of agents aside, I was also surprised how quick Sterling was to accuse Sophie and Nate of stealing the painting. I was expecting him to do a reveal that he knew they weren't behind it but had accused them to get their help. Hasn't Nate and the team saved his ass like a dozen times now? I guess his trust was kind of inferred with his offer to have Nate (and the art thief) come work for him. 
Of course, Sterling delivered the best Leverage quote of the hour when he walked out and off-handedly asked if anyone knew about replacing the painting with forgeries and the curator took off running. 
Did anyone else figure out the son was involved as well when the curator turned up in the pool dead? I felt a bit like Nate when I realized she had no reason to run toward the pool; the odds of falling just right to hit your head on the side edge and still make it into the water that far is pretty high. 
Speaking of Nate and his deductions, I really enjoyed how they showed him going through the motions of with the black and white scenes where only he was in color as the spectator.  I hope we see more of this effect in future episodes, as it give us a more tangible feel for how he figures things out.
Am I alone in my confusion of why Nate doesn't trust Sophie? As she pointed out, they have been working together for five years and sleeping together for the last two. Did I miss an episode where Sophie went grifting and stealing?  
I'm glad that Nate admitted he trusted her at the end. Oh, and I totally called the painting was of her when she wouldn't say why she knew it was a fake. 
Overall this was a great episode and made for a fun summer finale. Don't forget that Leverage returns in November to finish out its fifth season and TV Fanatic will be here with the latest news and reviews! 
Jim G. is a TV Fanatic Staff Writer. Follow him on Twitter.