The Leverage team is not accustomed to missing its mark, but the show itself is another story - this week in particular.
"The Real Fake Car Job" felt more like an attempt at an episode as opposed to the real thing. Hardison was right: there were five things going on at once that no one could have seen coming. And, as a result, it only managed to earn about twenty percent of my attention and investment in terms of plot.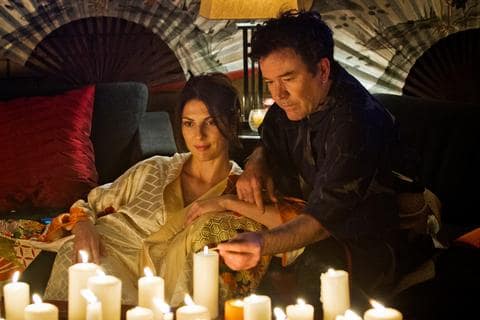 The two things I enjoyed most about this episode were Matthew Lillard and the wide array of vintage cars. Neither of these things had anything, really, to do with the plot or content of the episode. The background could have been Mars and they still would have stuck out.
Drive-by Plots. I appreciated that the con had to be complicated so that this con wasn't a copycat of all their other cons, taking out corrupt Wall Street folks by stroking their egos and lulling them into a vulnerable place emotionally or otherwise. But did we have to put Jim Cole (or was it Gabe Erickson?) into WITSEC with the mob after him at the same time?
Add that a US Marshall who stood to gain millions of dollars off his testimony and it was a little too much. Like Hardison mentioned to Nate, there were too many moving pieces for anyone to have possibly known what the outcome was going to be. What he forgot to mention was that it compromised the integrity of the outcome as well.
Exchanging Insurance. Nate and the team pulled off a con that earned them $50 million to redistribute to Erickson's (Cole's?) victims, but why on earth did that require that Nate meet with a mob boss? I get he asked that Erickson (Cole?) not be harmed in prison, but what's the purpose?
Shifting Gears. Here they are in Portland. That's an obvious fact. But why are they there, and what do they plan on doing? I understand that they're taking cases like always, but I am still at a loss as to what the bigger picture is here. One-shot episodes are great, but arcs are always appreciated. Don't get me wrong, I enjoy fluff, but fluff only gets you so far for so long. I'd hate to get to the end of the season and wonder what it was about as a big picture.
I'll at least leave you with a few highlights:
Parker's "I Love Food Carts" T-shirt.
Hardison's refusal to dig through anymore trash.
Sophie and Eliot as a "married couple" trying to impersonate mobsters for the US Marshall's benefit.
Classsic cars with historical myths surrounding them.
C. Charles is a TV Fanatic Staff Writer. Follow her on Twitter.