Parks and Recreation Review: Diet Water Zero Lite
Lisa Palmer at .
The brief excitement of visiting Washington D.C. to visit Ben has subsided and now Leslie is moving on to what she's always wanted. 
In "Soda Tax," we get to see her make actual changes in her town, so it's no wonder she's throwing up her 128 oz. soda! Leslie thinks so highly of Pawnee, its citizens and her community, a decision that holds some real weight for them. From her point of view, it's definitely enough to make her retch (that and the fact that she drank two gallons of soda).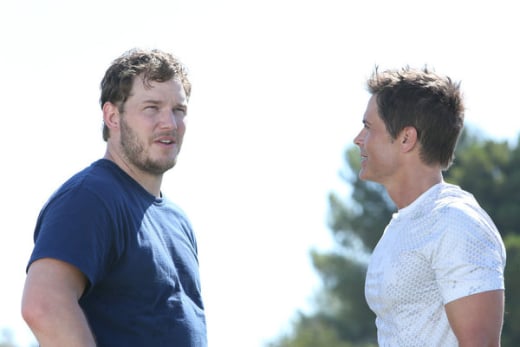 By the way, this is Pawnee, Indiana. They should be calling soda, pop! I know because I'm from the Midwest myself. Minor oversight for a pretty great episode, so I'll let it go. Some of the best scenes were with Kathryn Pinewood, who just had every excuse in the book for why 64 - 512 ounce sodas should exist and how they actually help Americans. I love that the 512 ounce was called the "child" size because it is actually the size of a small child.
It's a testament to how great and well-developed of a community this Parks and Recreation crew is that it was predictable that Leslie would go to Ron for help making her decision about the soda tax. And as always, Ron simply has the best and not always the easiest advice to take. 
God forbid Leslie be bubbly! A perfect Ron Swanson complaint. Coupled with his earlier order from Paunch Burger, I couldn't ask for much better Ron Swanson quotes. And his compass gift was heartfelt - another demonstration of how much Leslie can learn from him, even though they are vastly different and diametrically opposed on nearly everything.
Isn't Andy the best? His motivation for becoming a police officer is sickeningly sweet, just like the sugar Leslie couldn't get enough of. But he's a man in love. And Andy's sincerity makes his dumbness tolerable and enjoyable, so I'm all for it. And can I just say, I love that Parks and Rec opted to go in a direction that didn't force April and Andy to break up, get back together, and break up again.
They got married and things have been great and entertaining because they're in love and because their characters work well together better than apart.  
Chris is, as usual, a man of extremes. And I'm thrilled he'll be climbing the Mount Everest of his mind! My only hope is that we are privy to a session with an awesome therapist. 
Can't say I'm surprised to see Ben a bit tightly wound in Washington D.C. After all, his first introduction to us viewers was as someone who audited the Parks and Recreation department. It was his job then and it's his job now to be a department leader. But April's right: he could use some lightening up, especially since I happen to enjoy fonts besides "Times New Roman."
And while her methods are nontraditional, April did get through to Ben in her own way and he was able to negotiate a 15% commitment to her job!  Thankfully, I set my DVR so the ending to the episode didn't get cut off, which would have been a huge loss considering how hilarious April taking down "Smellis" was. I wonder if all characters named "Ellis" are made to be obnoxious (Smash).
Excited to see where this season goes for Leslie and the gang. More Tom next week, hopefully. And by then I hope to have my Mad Men bar firmly in place.