The 2012 Emmy Awards are in the books, and what did we learn?
Voters really love Modern Family. A lot more than Mad Men, at least.
In the wake of a somewhat funny, mostly predictable ceremony, TV Fanatic is excited to present the Emmy Award... Awards! Read on for our rundown of the most memorable moments.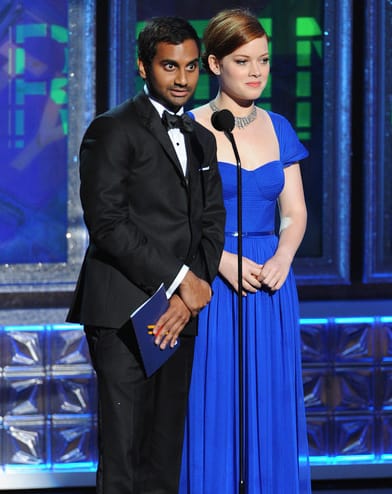 BEST PRESENTERS (Tie): Aziz Ansari for adopting a British accent (I feel like people take your acting more seriously when you're British ... It's brilliant. Fish and chips. Cheers.) and Tina Fey for forgetting her reading glasses and describing Lead Actress in a Drama Series nominees as "an invisible shrimp trucker" and "a shoebrush lady of manure."
BEST SPEECH: Aaron Paul. Humble and grateful, the Breaking Bad star addresses fiancee Lauren Parsekian and said: "Thank you so much for looking at me the way that you do, you truly saved me."
BEST TACKLE: Jimmy Fallon and Stephen Colbert for taking down Jon Stewart on his way to collect The Daily Show's 10th (!!!!) consecutive win for Best Variety, Music or Comedy Series.
BEST JIMMY KIMMEL JOKE: "Does it bother anybody else that President Obama said his favorite show is Homeland? I don't think the president should be watching Homeland for the same reason Charlie Sheen shouldn't be watching Breaking Bad."
GREATEST NUMBER OF NIPPLE COVER REFERENCES IN ONE ACCEPTANCE SPEECH: Julie Bowen.
BEST SEGMENT: The Modern Family cast reacting to the nightmare that is Aubrey Anderson-Emmons (Lily) on set.
RAUNCHIEST QUIP ABOUT JON CRYER: "Wore out that poster of Ducky." - Melissa McCarthy
BEST SAVE: Seth MacFarlane rushing across the stage after one microphone didn't work and telling the audience, in a Stewie voice: "This is what happens when you don't come to rehearsal."
BEST MOMENT: The standing ovation for Michael J. Fox.
Matt Richenthal is the Editor in Chief of TV Fanatic. Follow him on Twitter and on Google+.