SPOILER ALERT: Stop reading now if you have not yet watched last night's Private Practice Season 6 premiere.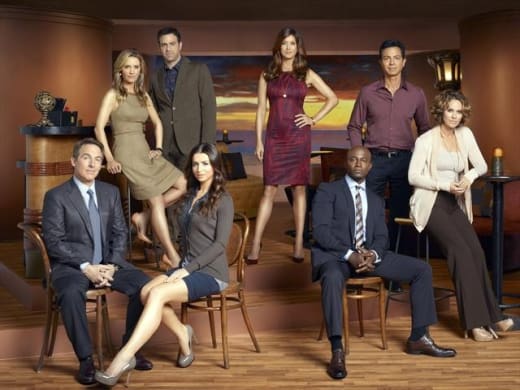 On an episode aptly titled "Aftershock," our favorite physicians were stunned to learn that Tim Daly's Pete did not jump bail. He died of a heart attack.
How will this major development affect everyone at Seaside Wellness going forward? TV Guide spoke with the cast and offered up the following tidbits and spoilers from each character's point of view:
Coop will be there for Charlotte, teased Paul Adelstein: "Especially in the first couple of episodes you see the intensity of that relationship, the intensity of her need with Lucas and her existential worry about what's going to happen, if something happens to her or Lucas, she's obviously rocked."
Charlotte will experience guilt, says KaDee Strickland: "She takes it really hard. There is an element of this that inherently feels like it's somehow her fault. He was there so much for her. He was her knight in shining armor when she was raped."
According to Caterina Scorsone, Amelia will take charge in a way: "Because Amelia has been through so much death and so much grieving, she's a bit of an authority in how it feels, and so she is trying to make sure Violet has as much support as she possibly can, so Amelia takes on that responsibility."
What did you think of Pete's death and the way the Private Practice premiere was structured overall?