"Something Fishy This Way Comes" is right.
From flesh eating diseases to a woman claiming to be Paige's mother, there were certainly a lot of things to be skeptical of on Royal Pains this week.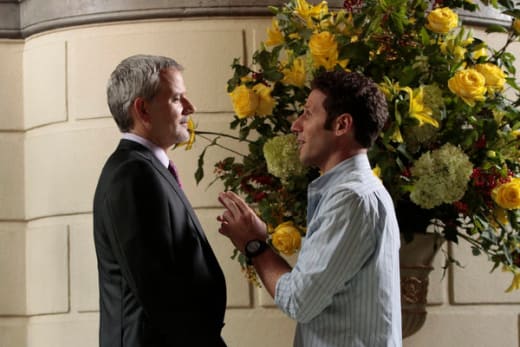 It's been a week since the shocker that had a random woman coming to town claiming to be Paige's mother. While the moment was less climactic than one would have expected for such a life-changing revelation, the decision to approach with such a lack of enthusiasm rendered it almost worthless.
I can appreciate a little healthy skepticism, but the way in which it was played out - with Paige doing a full background check and the woman coming back later saying "Oops, I should have just told you the truth from the very beginning" - was a little tired and disappointing. I was hoping she would at least have some minute detail or something to share that only Paige's mother would really know, like a birthmark or something, to make it more legit.
No, instead, let's jump straight to a definitive DNA test? Okay, Royal Pains, whatever.
I feel similarly about Hank and Boris' little international excursion. Dmitri is really starting to get on my nerves. He's an entitled jerk and Boris really ought to cut him loose. What does he do? He invites him back to the Hamptons! The only he brings is unnecessary drama. Again, Royal Pains, do what you want to do.
As far as Divya and Dr. Sacani goes, it's clear that Jeremiah has got it bad for Divya, and Divya only makes it worse without knowing it. It's really starting to get a little sad. It's beginning to feel forced and not genuine.
To make matters worse, it looks like next week they are going to artificially and forcefully ramp up the drama with explosions, cheating and DNA results. I can only begin to imagine the ways in which this could go completely wrong.
The two highlights from this episode:
Divya and Dr. Sacani working together.
Hank giving Amir his Doctor bag.
So, do you think overdone drama is in the future for Royal Pains? Were you as letdown by this installment as I was? If not, please explain/defend. Go!
C. Charles is a TV Fanatic Staff Writer. Follow her on Twitter.