For the first time in several weeks Royal Pains delivered an hour that didn't make me think it "Hurts Like a Mother."
While I don't quite mean to say that prior episodes were worthy of expletives, I do mean that they left much to be desired. But could our favorite summer show be headed in a new and enlightened direction?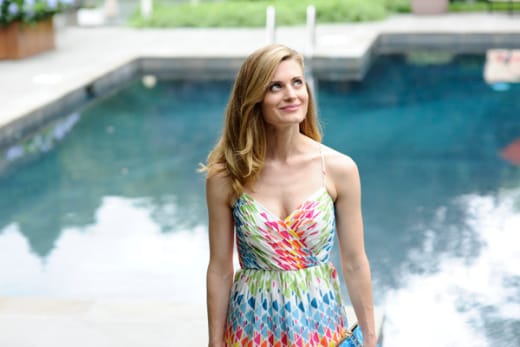 We'll start with the case. I loved the Jackie and Fiona dynamic. Supporting stories are only as strong as the actors who play the parts, and I really thought that this mother-daughter pair were as realistic as one can hope to see on television.
What I liked most was that Paige seemed to bond and connect with Fiona not only as a fellow college freshman, but also as someone who felt like they were on the outside looking in. Seeing Paige connect with her and care for her like she did was refreshing. I would have loved for someone to have supported and taken care of my academic life in the same situation; it was almost like something a big sister would do, and I loved seeing Paige fill that role.
Similarly, I enjoyed watching that relationship inform and transform Paige's perspective on her parents. She finally came around to a conclusion that they may not have made her, but they made her who she is as an individual now, which is the most important thing.
The only detraction from this conclusion was the out-of-left field decision that someone made to immediately introduce the birth mother who abandoned her in the same episode Paige decides that the parents she has are enough.
Are the writers out of their minds? I was so proud of the turnaround up until that point. Her appearance wasn't even probable. Paige neither initiated an investigation, nor expressed any desire to catch up with birth-mother dearest. Did the media leak that Paige was adopted and this woman suddenly decided it was possible Paige was hers? Or could this be a heartbreaking mistake?
One thing is for sure: if the look on Evan's face was an indication, it was the shock of a lifetime to have her show up at, of all places, HankMed. How did she even know to do that? So many pertinent and logical questions, so little explanation as of yet. I can't begin to imagine how this will impact Paige.
Another plot line that packed quite the punch was the one involving the continuously heating up relationship between Rafa and Divya. Apparently this is legit serious. I don't know how much more along the lines of "I love you" a man can get than confessing - in front of Jeremiah, mind you - that it will be difficult for him to sleep without Divya.
I really like this pairing, especially for the side that it brings out in Divya that we don't normally get to see, even if it does feel out of character in some regards. I think the purpose for which I like it most is the tension between Jeremiah and Divya it exposes. I thought on more than one occasion that Jeremiah was going to pass out due to an inability to handle the PDA taking place between Rafa and Divya!
Clearly Divya is unaware of the tensions and understandably so. But to see Jeremiah grow into his character and his skin is a testament to what a new character can do and bring to a show when given the proper time and development. It's definitely something worth celebrating. I anxiously await more in the near future.
The other development we've been watching is on the Hank and Harper front. I have to say that Harper is starting to grow on me. Her quick wit and charm are a great match for Hank, and it's neat to see them sort of unwind together. I've never really seen Hank openly admit he's too uptight and immediately remedy the situation with a steamy backseat romp.
Royal Pains seems to be just heating up, even as its season begins to wind down. Did the writers wait too long to deliver the goods, or was it right on schedule?
C. Charles is a TV Fanatic Staff Writer. Follow her on Twitter.