The Sons of Anarchy Season 5 premiere kicked off with Jax taking the place of his father in more ways than one, both at the head of the SAMCRO table and as the voice of journal-based reason, writing down thoughts for his kids and saying how much he enjoyed long trips because all he had to focus on was the smooth road ahead.
By the end of "Sovereign," however, the President was taking a far more stressful ride and his underlings were forced to stare down consequences for their Season 4 actions.
That road ahead is now a whole lot bumpier for everyone.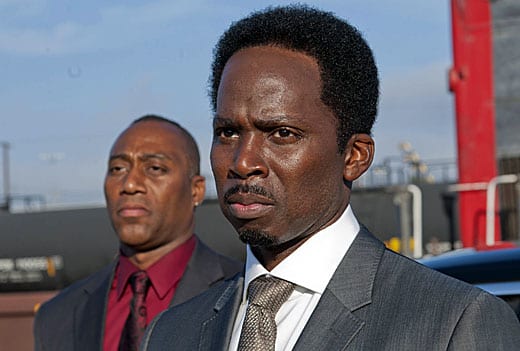 Especially Tig.
Holy emotional ball - errr, body? - of fire, that was intense. An ideal way to introduce Harold Perrineau's Damon Pope as the most bad ass of Oakland gangsters, immaculate suit be damned, the burning of Tig's daughter was as heart-wrenching and squirm-inducing as anything the show has ever aired.
It was gruesome, it was brutal and it was entirely appropriate given the context. A child for a child, right? This is the world into which Tig and the Sons have voluntarily entered and it's the reason why Tara so desperately wanted to take her kids out of Charming last season. The outlaws continually talk about family, and yet they risk the lives of their actual family members with every gun run they make.
Man, that was difficult to watch.
But Tig was far from the only SAMCRO member paying for his dastardly actions, as a chunk of the premiere was dedicated to Clay's struggle to prop himself back up.
It's a testament to the character arc Kurt Sutter has taken Clay down, along with the performance of Ron Perlman, that I found myself asking the same question as Jax every time this Oxygen-reliant biker was on screen: What's his play? Does he have a play? There's no way he's simply regretful and remorseful and content to live the rest of his days in a Piney-like role on the outskirts of the action... right?
One thing is for certain: he best not touch Gemma ever again. Especially now that the smooth operater Nero is on her side.
Debuting in classic SOA fashion - tattooed and bending a naked Gemma over the bed - Jimmy Smits' "companionator" will serve as a mentor of sorts to Jax this season. Sure, his inclusion in the storyline was a bit random and convenient... but it's Jimmy Smits! A huge fan of his from way back in the NYPD Blue day, I can't help but be excited to learn more about Nero Padilla.
This season will really be the journey of Jax Teller, though.
He began the episode as wistful and he ended it on the run from the police, a likely shiv in jail awaiting him otherwise. In between, he juggled a bitter fiancee, angry mother and secret alliance with the CIA. It's a lot for one man - heck, for one show - to handle. How will Jax be affected by the responsibilities of his new position? Opie fears that his best friend has already traveled down a path from which he can never return, one that led him to cover up Clay's shooting instead of putting his step-father in the ground.
Will Jax truly follow his father's teachings and turn the club in a positive direction? We all know what happened to John Teller when he merely hinted at that route back in the day.
Overall, Sons of Anarchy can sometimes juggle too many storylines at once. I'm not sure if we needed to see Tara with a joint and even the home invasion cliffhanger - the peg-legged dude was that NOMAD, right? - seemed like one shock too many.
But is there a better ensemble cast on television? Can any show deliver as many legitimately stunning, ghastly moments? Is it possible not to be affected by its nearly weekly montages?
I choose never to over-analyze Sons of Anarchy. I simply sit back and appreciate the performances, the intensity, the raw action and the twists and the turns that leave me wanting to rev up and hop aboard for another ride as soon as each episode ends.
Matt Richenthal is the Editor in Chief of TV Fanatic. Follow him on Twitter and on Google+.