Good for Roy! I'm not sure why The Office decided that he needed such a happy send off, but "Roy's Wedding" was indeed that.
Not only did he get married to a seemingly great girl, but he's also well off, and more importantly, he's making an effort to do special things for his now wife. He's grown up.
The way the sitcom worked Roy's surprise for his bride into the story - so that Jim and Pam could take issue with the fact that they had absolutely no secrets between them - was perfect. Sure, it didn't create many laughs, but watching Jim squirm about his giant secret was fun enough on its own.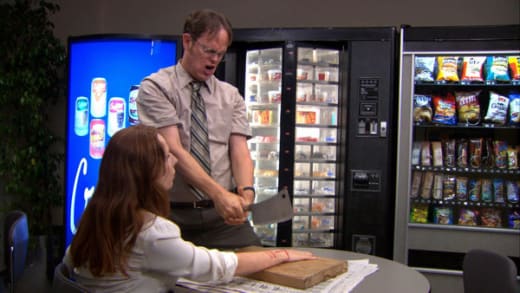 Back at Dunder Mifflin, things started to get a bit crazy. After Nellie's charity bit pushed Dwight into agreeing to live under Taliban law, she had the brilliant idea to steal something, which would require Dwight to cut her hand off.
Nellie, like the rest of us, knew that Dwight would never actually do it. Giving him a meat cleaver and propping her hand up on the table wasn't actually all that risky for her, and it was pretty funny seeing Dwight not be able to make the cut over and over again. Darryl bringing in 127 Hours for them just made the whole thing that much better.
The third plot of the night kind of just made my skin crawl. It's difficult not to picture Clark Duke as the extremely innocent Dale from Greek, so watching Dwight Jr. attempt to take advantage of Erin was just plain weird.    
Although I'm not becoming the biggest Dwight Jr. fan through two episodes, and Plop isn't bringing much to the table, this dynamic has been a much better use of Andy Bernard than what we endured last season.
Between the bit when it seemed like he was going to be mad about the Erin situation, but then just asked what kind of clothes she needed for the audition; calling a meeting to talk about Erin's body; and then wanting to stay late with Dwight Jr. to get his lines right while sending Erin out for a burger with Plop, Andy was on fire in "Roy's Wedding."
Some other highlights from this week's episode of The Office:
The spinning wheel bit from the cold open was pretty good, especially the fact that one of the prizes was a "Warehouse Vacation."
Creed: The Taliban is the worst...great heroin though. | permalink
The waiter taking Pam's banana peel was all kinds of awkward.
Kevin is awesome.  He wants to give goats to poor people.
Pam: I planned a wedding with him. He wanted hot dogs. | permalink
What did you think of "Roy's Wedding?" What were some of your favorite moments from the half hour?  Check out some of ours in The Office quotes section!
Dan Forcella is a TV Fanatic Staff Writer. Follow him on Twitter.