The teams are almost filled, which means it's almost time for the blind auditions to end on The Voice. As interesting as this format is, and as much as I enjoy a good sob story, I will be glad to move on to the next round of this season. These auditions get tiring.
What never gets tiring is Carson's excitement back stage, Blake's self-deprecating sense of humor and Adam's ability to persuade contestants to his team. As always, there was plenty of all three on Monday's episode, so let's see how it all played out...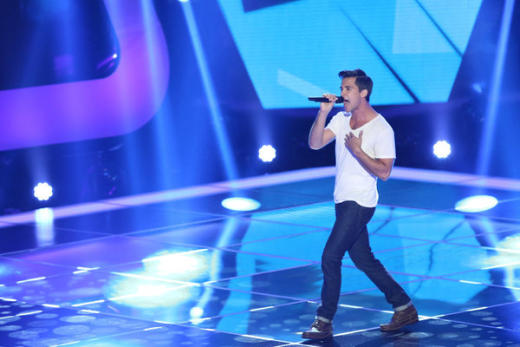 Team Blake
Monday: 5-for-6, Total: 12-for-27 (44%)
Although Carson led the viewers to believe that Blake was just being selective up to this point in the competition, we all know that he just hasn't been able to reel in the singers, only succeeding 33% of time before this week. Monday was a completely different story as the country crooner went 5-for-6, picking up a wealth of talent for his squad.
Michaela Paige, Ryan Jirovec, and Lelia Broussard made their way to Team Blake without much screen time, but the same was not true for Suzanna Choffel. The 32-year old music teacher wowed us with her super sultry version of "Landslide." I'm not sure her style is perfect for a show like this, but I know I would by an album of hers if it sounded mostly like THAT.
Blake picked up his fifth and final contestant of the night in a surprising choice by Terisa Griffin. After her diva stroll to the audition, I'm sure nobody expected her to pick anyone but Xtina, but she went with Blake because he had to tell Christina to push her button. For as strong and smooth Terisa's "Someone Like You" was, it still took Blake screaming at Xtina for her to push her button. That would have turned me off as a performer as well.
Team Adam
3-for-4 14-for-25 (56%)
It was Adam Levine who added the first singer to his team on Monday, beating out Cee Lo and Xtina for Michelle Brooks-Thompson. Michelle's booming start to "Proud Mary" was only outdone by her control and energy in the later and sped up part of the record. Also adding range to the performance, she could be a contender.
After picking up indie rocker Sam James, Adam ended his night with 17-yearold Brandon Mahone. As soon as I heard the start of "I Wish It Would Rain" I would have turned around. Anyone who sings a Temptations song that isn't "My Girl" or "Ain't Too Proud to Beg" immediately get bonus points from me. It was a solid choice, and an even better performance. He's a throwback to Motown, and I like that.
Team Cee Lo
2-for-5 13-for-35 (37%)
Cee Lo added two to his team, both coming unopposed by his fellow coaches. What's new? First he garnered Diego Val, a singer from Peru who has recovered from a horrible disease. You had to love the story about him getting better and then singing to sick kids in the hospital, so when he could actually sing well, I was happy for the man. I loved his vibe, especially when he broke into the Spanish mid-song, so I'm glad he at least made it to the next round.
Later on in the night Cee Lo and Lady were wowed by Alexis Marceaux of New Orleans. I am kind of immune to the sob stories at this point, but hers was especially difficult to take seriously when looking at her family member with the jacket, glasses, and fro. Luckily for Alexis, the nerd glasses really worked for her, and her "Go Your Own Way" was very solid. I love that Cee Lo is always surprised when he's the only one to turn around.
Team Xtina
3-for-6 13-for-24 (54%)
Other than annoying me by continuing to tell contestants she didn't turn around for them because they were meant for one of the other coaches, Christina also picked up three players for her team on Monday.
First it was Dez Duron, who returned from last season's missed opportunity. His choice and performance of "Sara Smile" was much smarter than whatever boy band number he did last year, and Blake is right...he's a very good looking dude. That could help him out with the female voters, and also probably his coach.
Latin singer Laura Vivas made her way to Team Xtina, and then it was time for Jordan Pruitt. Jordan used to tour with Miley Cyrus, Vanessa Hudgins and the Cheetah Girls so I'm not sure why it is such a big deal to meet Christina Aguilera.  Isn't Miley more famous at this point?  Jordan may want to sing more mature stuff, but her voice sounded a bit like she was still a teen star. Her tone wasn't my favorite, but that ridiculous run in the middle was good enough to get Xtina's attention.
------------
We are getting down to the wire. Whose team do you think is shaping up the best for the next rounds? What was your favorite performance on Monday? And how much did you enjoy Cee Lo singing his song with VJ?  
Dan Forcella is a TV Fanatic Staff Writer. Follow him on Twitter.