The Voice returned earlier than normal for season three, but Blake Shelton's jokes, Christina Aguilera's cleavage and a boat load of talent seemed to not miss a beat during Monday's season premiere.
After the coaches put forth probably their best joint performance yet on the series - and we all had a good laugh at Cee Lo's newest wacky The Voice pet Lady the cockatoo - the contestants all had their chance to wow the coaches. Let's see who impressed us the most...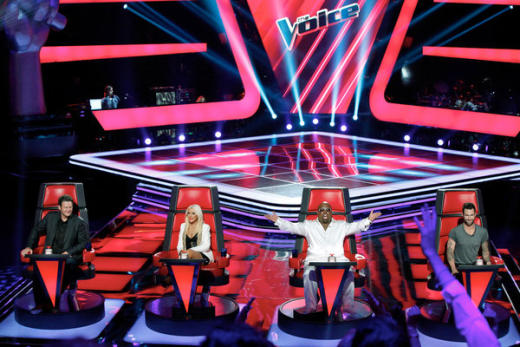 Team Blake
Last season's victorious coach Blake Shelton was coming in hot Monday night, picking up two of the first three singers shown on screen. First out of the gate was 35 year-old Scottish rocker Terry McDermott. Other than his cute little son, Terry didn't impress me all that much. He sure did wow the coaches though, as three out of four turned around for his version of "Baba O'Reilly." Blake's idea to just let Terry's accent propel him to the championship worked, as the first contestant picked the country star to lead him to the promise land.
Next up for Blake was Gracia Harrison, who I was certain I wasn't going to like when I heard she yodeled. That is exactly why you don't stick to your initial reaction, because I loved her tone, and I actually loved her yodeling. I'm not sure if it was the best country performance ever on The Voice, but I'm pretty positive she won't be singing at county fairs after this season of the show. This time's Blake plea that Adam or Cee Lo would tarnish her country flare if she picked them got him the wanted singer.
It didn't go so well for Blake after that as he turned around five more times and failed to land a single contestant. He finished 2-for-7 (29%), a far cry from his 52% by the end of last season's auditions.
Team Xtina
Like her rival Blake, Xtina was also successful in her first two turns of the giant red chair.  First up for the pop diva was De'Borah, who was basically booted from singing at church because of her appearance. The fact that she has a buzz cut and dressed in all hot pink didn't bother the coaches on The Voice (although they couldn't see her anyway). Her unique voice on "Hey Soul Sister" got both Cee Lo and Xtina to turn, but she eventually chose the latter because of her song "The Voice Within."
Devyn Deloera was extremely shy and apparently socially awkward as a child. Thankfully singing got her out of that stage, because she gave a nice performance of "Ain't No Other Man" here. Oh, and she's gorgeous. Xtina sympathized with Devyn for running out of breath on her song, which I think turned the singer in the lone female coach's direction.
Unlike her rival Blake, Xtina didn't turn her chair around for anyone and everyone for the rest of the show. She did, however, fail to earn any more team members, finishing 2-for-4 on the night (50%).
Team Adam
After failing to land a team member in his first three turns, Adam Levine finally got in the mix with Bryan Keith. The only contestant of the night to turn four chairs, Bryan impressed the coaches and less importantly me with an extremely soulful "It Will Rain." He showed strength, range and the ever important raspy quality before picking Adam. You have to give Adam credit for taking the extra time to state his case a second time to make sure he landed this stud.
Later in the night Adam added former back up singer and recent front man Joe Kirkland to his squad. This kid had a great new age rock vibe going for him, and I agreed completely with Adam's assessment of having an aggressive voice but a lot of control. I wasn't surprised at all when Adam and Blake turned around so quickly. Even though Blake pulled the vest card, Joe eventually went with fellow front man Adam.
After missing out on his first three choices, Adam was two-for-two to end the night, finishing 2-for-5 (40%). It wasn't a bad recovery for the coach who led the group with a 60% success rate last season.  
Team Cee Lo
Cee Lo is not in last place!  Cee Lo is not in last place! It wasn't pretty, but Cee Lo Green's 2-for-6 (33%) on the first night of auditions puts him slightly ahead of Blake Shelton in turn percentage. Last season he was in last for the entire audition process, finishing at 40%.
In his first pickup, Cee Lo beat out Blake for the rights to Daniel Rosa. Daniel auditioned last year but didn't make the cut. This time he had much better pitch, and gave a very different - both in sound and in style - version of "Somebody That I Used To Know." I loved watching Adam run onto the stage to hug him, but I think I loved that Daniel needed to take a breather on the steps even more.
To end the night, Cee Lo won the favor of Trevin Hunte over both Xtina and Blake. Trevin is an 18 year-old from Queens who had a teacher tell him he was wasting his time trying to go to a performing arts school. That teacher probably feels pretty bad now, because Trevin brought down the house. It wasn't MY favorite performance of the night, but the coaches and the crowd loved the heck out of his "Listen."
----------------
There you have it. Another season of The Voice has begun, and it was as great as ever! Which was your favorite performance? Who do you think has a shot to win the whole thing  And which coach did the best job on Monday? Be sure to come back Tuesday and Wednesday night this week for more analysis of The Voice's blind auditions!
Dan Forcella is a TV Fanatic Staff Writer. Follow him on Twitter.