Apparently The X Factor wasted all of its talent on Wednesday night - because during Thursday's hour of auditions, we saw only two quality performers. In fact, we only saw four serious performances total.
Somebody from Greensboro might make it all the way to the end and win this thing, so it's still important to take stock of what went down in Gate City. As we do, let's take a look at The Good, The Bad, and The Judges...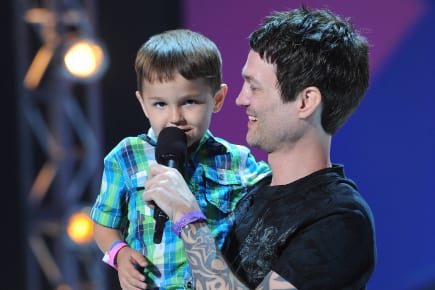 The Good
Kalvin McManigle: Yes, I know this was an absolute joke of an audition, but it was one the few disasters that actually got me to smile. Old Man River forgetting the name of his song, and then mumbling his way through it, was quite humorous.
Julia Bullock: One of the two decently talented performers from this entire episode, Julia was most interesting because she was ditching her bandmates, which included her ex-boyfriend. I don't understand why she left him. Did she not see his super cool earring? Julia's rendition of "Pumped Up Kicks" was pretty solid. I'm falling out of my chair for it, but she was good.
Jeffrey Gutt: For the first time this season Demi Lovato wasn't far and away the best part of The X Factor. Jeffrey Gutt's little boy was giving her a run for her money with how darn cute he was. Jeffrey added a great rocker tone to his already cute kid, which immediately puts him at the top of the list to make it to the live shows.  He also continued my streak of never hearing a bad version of "Hallelujah." I'm pretty sure it's impossible to sing that song poorly on television.
The Bad
Willie Jones: Sometimes the judges are just crazy. I was digging this kid's 90s flat top, but his bass? That was some kind of awful. He completely forced it in order to come within the same galaxy of Josh Turner's beautifully deep voice, but it just didn't work. His normal singing voice sounded fine if not a bit off pitch, but going up and down with his range wasn't doing Willie any favors. He won over the judges though, so good for him!
Krysten Colon: This was surprising. I didn't think they would send her out to change songs only to find out that she really can't sing. Her first audition, the Adele number, was decent. Her second one was terrible.  Krysten's rant after failing to make it to the next round was when things started to heat up though. She really went after it. This was the type of tantrum I have been expecting to see since the season premiere! Grade A fit.
The Judges
None of the judges are getting on my nerves yet, which is a really good sign, but I can't believe they continue to go along with these gimmicks. I might say no to the producers when they say, "ok now pretend like you can here thunder inside the arena."
The one specific thing I liked on Thursday was Simon in Greensboro. When he found out that the city was known for their grits, he asked where he could find "a grit." Wow, he is British. Instead of being at work, he's out at a local diner eating some buttery grits!  I loved it.
-------------------
What was your favorite moment from Thursday's The X Factor auditions? Who was your favorite contestant? Who was your least favorite?  
Dan Forcella is a TV Fanatic Staff Writer. Follow him on Twitter.