It's 1960s Las Vegas and the rules are different here. Lawmen roughing up suspects is almost as expected as bodies being found in the desert. And in the Vegas pilot there is no CSI to track down a murderer.
But there is Ralph Lamb, rancher and former MP who reluctantly takes on the job as Sheriff when the mayor asks. Dennis Quaid, meanwhile, takes on his first TV role as the soft spoken Lamb, who carries a big rifle and throws a mean punch.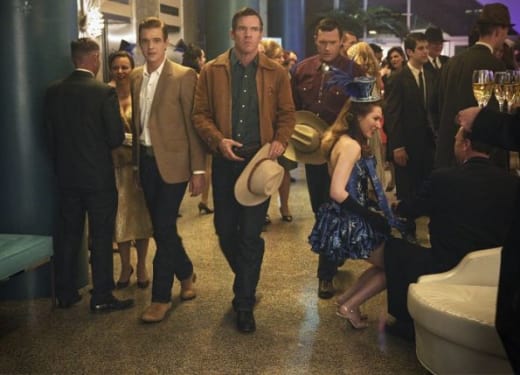 Lamb's a good guy but he's not unwilling to bend the rules to find his answers. Time will tell how far he's willing to do so in order to solve a case, especially where mobster Vincent Savino is concerned.
Michael Chiklis embodies the role of Savino, Vegas' new top mob boss. He's looking to expand but taking it one day at a time. Today, that means playing nice with Lamb. What that means tomorrow is anyone's guess.
Vegas is filled with interesting characters. I'm happy to see Jason O'Mara resurrected from Terra Nova but I hope he gets to do more than simply play Lambs side kick.
Carrie Ann Moss' Assistant District Attorney, Katherine O'Connell, should prove interesting as a woman climbing the ladder in the 1960 male-dominated world of law and order. 
The fun of Vegas will be watching Lamb and Savino coexist as Las Vegas transforms itself into a mob run mecca of money and sin. 
This premiere was all about introducing us to the main characters and I found them intriguing enough to want to turn back in.
However, the murder plot felt typical of your standard procedural, simply set 50-plus years in the past. And there were a few moments that felt highly questionable such as...
Would a biker gang in 1960 really have a high powered attorney who flew in from Los Angeles?
Can gum on the door frame actually keep that lock from clicking?
Lamb's game of chicken with Bob was cool but he could have just as likely ended up as road kill. 
The pull to tune in will be watching this talented cast transform themselves into the compelling characters that inhabit the contradictions of this gritty yet glamorous world. 
Will you be heading to Vegas this season?
C. Orlando is a TV Fanatic Staff Writer. Follow her on Twitter.