Did we just witness the induction of a new Warehouse Agent?
I liked that Pete had a good vibe about Deb and that she might be joining the good guys in some capacity. Too many times characters such as this end up fighting against the organization instead of embracing it. Mr. Kosan was pretty smart to consider recruiting her over other choices. 
Deb Stanley (Danielle Nicolet) has a spark of curiosity about her that we haven't seen in an Agent (except maybe Hugo). How cool was it to see her staring out into the warehouse with "Endless Wonder" at all the things she could discover? The balance of her father's lesson of "do no harm" makes her an ideal candidate for the warehouse.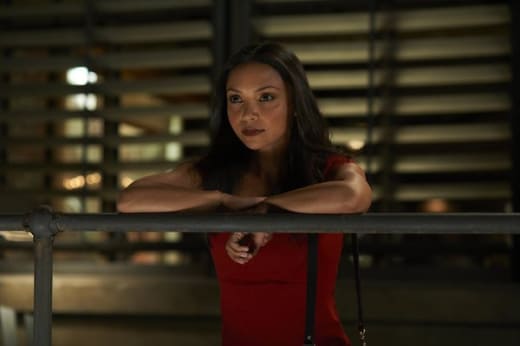 Speaking of the warehouse, raise your hand if you laughed when the Senator was shown to "Storage Room 6!" I swear most the items in that storage room were Bo and Kenzi's house in Lost Girl! I loved that they used the same umbilical entrance and the escort did Artie's "grand gesture" from one step off the ground. That was priceless!
Of course, my heartthrob and crush H.G. Wells showed up at the end. Long time readers of my Warehouse 13 reviews will know that I have adored H.G. since she was introduce in Season 2's episode "Time Will Tell."
I had a feeling it was H.G. that Artie called to help find the knife when he would tell the team. However, H.G. having told her suspicions to Mrs. Fredric was a complete surprise. She's right, though, if anyone would know the signs of time travel, it would be her. Artie should have thought of that before recruiting her if he didn't want her to figure it out. 
In fact, Artie is quickly coming to a corner he is not going to be able to get out of: Brother Adrian and H.G. now both know what he did, and it's just a matter of time before everyone does, given that Claudia is also hot on his heels. 
Maybe the evil that is unleashed is the slow torture of the audience as he repeats over and over that he can't say anything... but never says anymore!
What did you think of this week's episode? Did you like Deb? Do you think she and Pete should continue to date? If you were Artie how much would you say to stop people from digging? Be sure and stop by our Warehouse 13 quotes section to see if your favorite mad the list. 
Jim G. is a TV Fanatic Staff Writer. Follow him on Twitter.