It's been a jam-packed season thus far on USA's White Collar, with much of the action driven by Neal searching for his father and trying to uncover the truth about his own life.
As we move into tonight's mid-season finale, will Neal get closer to the the latter without jeopardizing his relationship with Peter? Does Sam truly have the best intentions where Neal is concerned?
To find out the answers to these questions and more, TV Fanatic's Jim Halterman managed to squeeze a few minutes of phone time with Executive Producer Jeff Eastin to chat about White Collar and also check in on the progress of Eastin's next USA series, Graceland.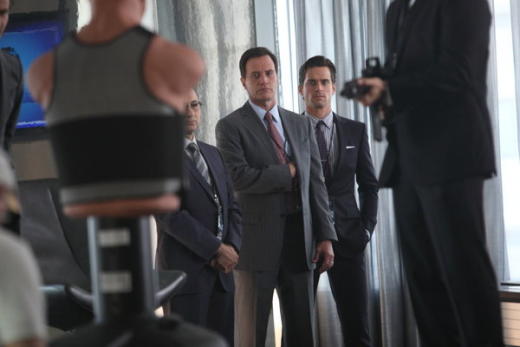 TV Fanatic: Regarding Neal's search for his father, has that storyline been in the pipeline since the start of the show or is it a newer idea?
Jeff Eastin: Yeah, it's been there since day one, really. It sort of came in earlier episodes where Neal talks about his father and that Dad was a dirty cop and he grew up thinking his Dad was a hero and he found out on his eighteenth birthday when his aunt told him that the opposite was true.
From Neal's point of view, he woke up on his eighteenth birthday and found out his whole life was a lie. His name wasn't really Neal Caffrey, it was something else and almost everything he's ever known about his father was a lie.
So the question for me and the question for the series is this idea that Neal says, to himself, he wants to be good. He wants to be Peter. He wants to wear the white hat. But when he found that out [about his father], he suddenly realized genetically that he was just born bad. Becoming a con man and a criminal was really his destiny. What happens then is that Ellen comes back into his life and hints 'Maybe your Dad wasn't a bad guy.' And to find out that he's been wrong and that he's really not made up of bad guy material... that is what's really driving [Neal] through this season.
TVF: Did you and your writers hedge at all about killing off Ellen (Judith Ivey) or did you really need that to happen to propel everything that's happened since?
JE: That was planned. Part of it was we just needed to transfer the story to someone else and inevitably there wasn't too many ways of having that happen. We debated about having her disappear but ultimately sometimes a loved one has to die.
TVF: Without giving too much away, is Sam somebody that Neal should trust and should viewers trust him going into the finale?
JE: I can't give away too much. I'm going to give a 'no comment' on that.
TVF: When the next half of this season airs, will we continue this story with Neal's father or will there be some new threads coming into play?
JE: Really the thrust will be the relationship between Neal and Peter. Peter has always assumed the role almost as a surrogate father for Neal and so some emotional issues come up between the two guys that way. It's always a challenge to keep the game of this mistrust between Peter and Neal alive because that's sort of the heart of the show. If they're just great buddies you lose a lot of the drama.
So in the back season really what happens is they have a much deeper…the mistrust as much as it is, Peter being sort of a protective father to Neal and saying 'I don't know if you should trust this guy.' And [also] Neal so desperately wanting to find the father who he hasn't really dealt with in 30 years. So, he's found this guy and he so desperately wants him to be good and to find out that he wasn't the cop killer that everybody told him. Neal's relationship with James, his father, and the search for the box, which will have a lot of answers buried in it, really begins in the second half of the season. 
TVF: How challenging is it for you and your writers to service your supporting cast? Everyone seems to get an episode focused on them along the way but is that tough to do?
JE: Yeah, it really is. Last year, Diana (Marsha Thomason) had her own episode, Jones (Sharif Atkins) had his own episode and this year partly because Matt's film career has really taken off and because we're in season four and the fact that I think just about every scene of White Collar has Matt in it in one way or another, we decided we needed to give him a break.
So what that did is that instead of doing a specific episode for Jones, we upped what they do in the current episodes. You'll see the team digging in a lot deeper than they have in the past. You'll often see Jones and Diana involved in a lot more cons. We have some really good stuff where Mozzie (Willie Garson) and Jones hang out together for an episode which is a lot of fun. There's also a big Diahann Carroll (who plays June) episode in 413, a jazz episode. It's always been a big challenge with a large cast.
TVF: Will we see more of Sara (Hilarie Burton) in the next half of the season?
JE: Yes we will, as a matter of fact. We just locked the finale for the second half, the 4.5 finale, and she figures very heavily in that episode.
TVF: How's it going with Graceland? Where are you with writing and shooting?
JE: Writing is coming along. We're on the second week in, the writers' room and actually making very good progress. I've taken a couple of the folks from White Collar over to the Graceland room so I don't have a brand new staff. We've got that familiarity which helps speed things up. During the White Collar finale they're going to run the Graceland trailer, which I'm excited about. It's definitely a different show from White Collar but it still has the same sense of humor so I'm hoping the White Collar fans will like it as well as everybody else.
White Collar airs tonight at 9/8c followed at 10/9c by an all-new Covert Affairs on USA.
Jim Halterman is the West Coast Editor of TV Fanatic and the owner of JimHalterman.com. Follow him on Twitter.