Ryan Newman may have done the most adult thing in his life on "Resentment." He offered to put on a wedding for the girl on whom he has crushed for the last two years, along with her obnoxiously funny fiancé.
He began this week's Wilfred by doing anything and everything he could to avoid even going to said wedding, but by the end of the half hour he was not only a part of the party, he also accepted the responsibility that comes with putting on Jenna and Drew's big event.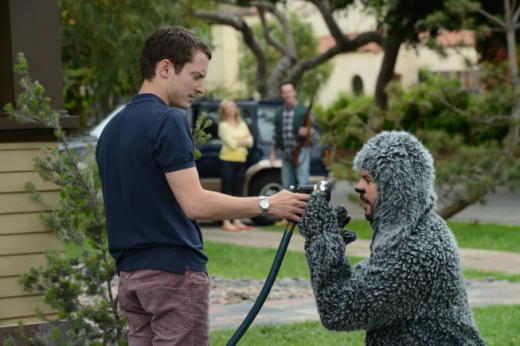 Seeing Ryan act so grown-up was heart-warming. And if it was only a stepping stone to him having the courage to make up with Amanda, I'm okay with that too. Like Ryan, I've missed her.
Although there was plenty of drama to go around this week, we first tune into Wilfred for the laughs... and there were a lot during "Resentment." Drew came back from his bachelor party chock full of classic new nicknames (Ry-cironi and Jenna-ration X) and stoned-out questions about the possibility of Wilfred talking. He was welcomed back with open arms.
Oh yeah, there was also that guy who continues to be my vote for best comedic performance of the year, Jason Gann. Between Wilfred's plan for walking down the aisle as ring-bearer and his idea for Drew's vows being filled with a Panda, a hologram, and Eddie Van Halen, the dog was on fire yet again.
It didn't get much better, though, than when he began getting jealous of all the other dogs Jenna's been petting. His jealous husband act was hilarious. From the denial ("That's just from her pushing other dogs away") to the anger ("I just watched Jenna take it in the hands from every guy in the neighborhood."), and from the drunken a** hole act that led to Drew getting shot to rubbing it in the other dogs' faces after he finally made up with Jenna, it was one of my favorite story lines of the season.
What about you guys  Was this one of your favorite episodes of the year? Or were you let down by Wilfy and the gang? Are you happy to see Ryan making a move back towards Amanda? Or do you still want to see him with Jenna?
With only one episode remaining in this great second season of Wilfred, what do you expect out of the finale? Check out our favorite Wilfred quotes and then sound off in the comments.
Dan Forcella is a TV Fanatic Staff Writer. Follow him on Twitter.