Did Liam Court get a haircut, because he was looking extra fine on this week's 90210? What's the famous saying: "It's All Fun And Games" until somebody gets hurt?
By the end of the episode, everyone realized that to try and avoid hurt they would have to face their fears in life.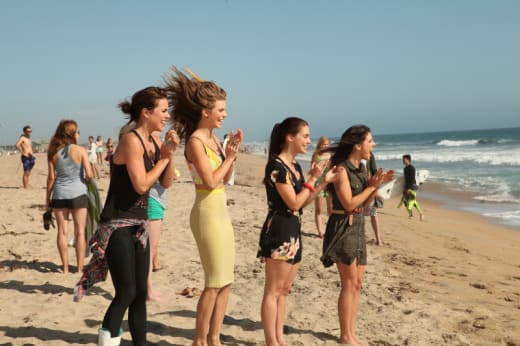 Dixon stopped feeling like a victim the minute he realized how other people were affected by the accident he was in. Even if it wasn't his fault, he realized that not everything is as cut and dry as he thought. As much as Dixon was hurting, meeting the daughter of the truck driver who caused his accident added a whole new layer of upset. It also introduced Jessica Parker Kennedy of The Secret Circle fame! 
Riley faced a fear in owning up to the real reason he was in a wheelchair. It couldn't have been easy to tell Annie that he was less of a hero than she perceived him to be. The truth is that people do dumb things and make mistakes and sometimes the consequences are worse than they imagined. Luckily, I don't think that Annie was all that thrown off by hearing the truth from Riley. As far as she's concerned, he's the guy who got her brother to fight for his ability to walk and got him out of the chair. I loved the scene between Dixon and Liam in the ocean. That is a bromance I can ship.
Silver is right when she lamented, I'm 20 years old; I'm supposed to be the kid. 
She is really young, but she's also extremely independent and a strong young woman. I liked Ade's idea for Silver to go out, have fun and face some of her other fears before getting inseminated. Who would've thought we'd see this scene a few years ago when Adrianna tried to kill Silver? Glad that the girls are all on a good page again.
Naomi was killing Alec with kindness and you've got to admire that kind of dedication she has to her hubby. We all knew Alec was shady, but this week we finally got the confirmation. For a minute there, I thought that maybe a few of your theories were right and that maybe Alec had the hots for Naomi, but then he whipped out the pics. This d-bag clearly has no idea who he's going up against.
I think Liam's new interest in Max and Alec's company is what's going to help back up Naomi in the end. Alec will obviously show the pictures to Max before Naomi tells him the truth. Liam will end up helping Naomi out in return for getting him the video game gig. They're going to take down Alec like they took down cousin Emily!
Also, favorite quote of the night obviously goes to my girl Naomi:
Hey Liam, nice balls. | permalink
Per usual, the girl can take four words and manage to crack me up with her delivery. Another great part about this week? No Vanessa! Liam had to face his fear of going to jail and report Vanessa missing, but it turns out he was relieved when he found out the FBI was onto her. I still think she's going to make a comeback, mark my words.
What did you all think of the latest episode of 90210? Hit the comments!