On my drive to class this morning, NBC asked "What kind of hero are you?" during one of the (many) promos for Chicago Fire - and it's a great question... except there's one problem: to be a hero you need character.
Chicago Fire's pilot just didn't answer that question as well as it should have.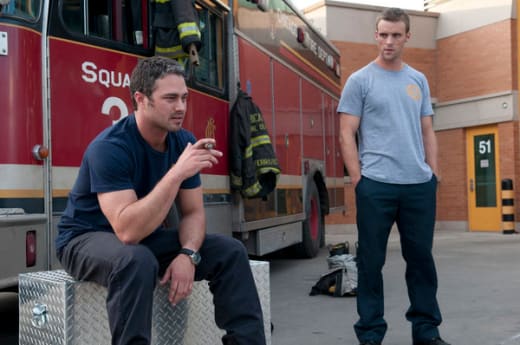 Which is rather surprising considering it's a show from Dick Wolf. While the multiple iterations of Law and Order never had the most amazing characters, they were still fully developed and interesting enough to hold our attention season after season, and if Chicago Fire is going to carry SVU's heavy torch it needs to give us that same reason to tune in.
However, there is something here, as Taylor Kinney's Severide and Jesse Spencer's Casey both make something out of the very limited material given to them. The firefighting setting lends itself very well to character dynamics and their interaction, as the two aren't always fighting fires; their struggles and their personal lives interact and it can get messy in the downtime. The death of Darden has deeply impacted both of them, and they're struggling to get over the rift that Darden left in his wake.
My brother has been a paramedic and firefighter for years now and he always told me that no matter what happens inside the firehouse it's all left behind on a call. Everyone sets aside their issues and looks out for one another. This is where Chicago Fire's greatest strength lies: during every call the team set its personal problems aside and worked together to stay safe and do their jobs.
The fire fighting and the rescues are the greatest strength of the show. The scenes are full of adrenaline and heart-pounding action, and this is part of the something that Chicago Fire does possess. No matter how lacking some of the characters are at this junction, that basic instinct of survival we all have comes to our forefront as we watch them fight these flames.
No matter what I thought Severide and Casey were lacking as they fell to the floor in the building fire, my only thought became "please live, please live." When they put their differences aside to help each other my eyes may or may not have welled up in tears.
Other thoughts:
For the new guy, Mills certainly didn't get very many "initiation" jokes and pranks.
Dawson and Shay are the only other periphery characters that are holding my attention aside from Chief Boden. Herman and Hallie are rather boring, and feel unnecessary at this point for the show.
What did everyone else think? Will this set your DVR ablaze?