"Better Times are Coming" could be considered part two of "The Hudson River School."
All the plots pick up where they left off: Morehouse is still infiltrating (or collaborating with) the Southern rebels, Corcoran and Elizabeth are still at odds, the mystery surrounding Mary Lockwood and Maguire deepens and Annie is still unnecessarily disturbing.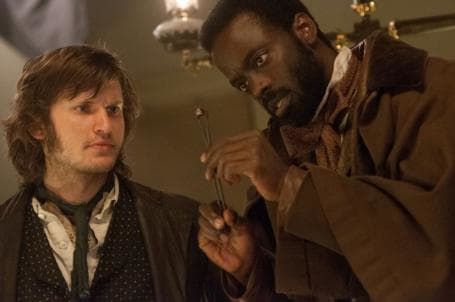 What really stood out to me this week was Ryan and Weston-Jones chemistry. Maguire and Corcoran are troubled men and this, among other things, is the foundation of their bond. They look out for each other, especially when it comes to each other's dark side.
At least that's what I thought. Then Corky discovered "Mrs. Maguire" - Corky's wife! - in an asylum for the insane. Maybe Maguire was trying to save Corky from the pain of seeing his wife like that, but I don't know if I could trust him again.
But Maguire really isn't looking so trustworthy lately, is he? Hiding Corky's wife and possibly killing Mary Lockwood? Combined with what Eva said about Molly being afraid of Maguire, he's turning out to very different than what I first thought.   
And then there's Annie. I know I've gone back and forth on her, but I think she's the most inconsistent character on the show. I want to like her. I want the writers to turn her into a compelling and realistically troubled child, and you can see how they tug at her as they try to mine more depth. Putting on Corcoran's wife's clothes was particularly creepy, but it had more weight than her flippant sexual remarks. I put Annie's most disturbing comment from this week on the Copper quotes page. 
With Lincoln reelected, more Greek Fire possibly on the way and the three Booth brothers making an appearance, Copper is going to tangle itself even deeper in the historical events of the time, and that's something I'm looking forward to. They way the show incorporates historical details, even if it's just a small mention of "Boss Tweed" like in this week's episode, is probably my favorite thing about the show. 
What's your favorite thing about Copper?