Hart of Dixie Review: Choices, Cake Knives and Fresh Starts
Kate Brooks at .
"I Fall to Pieces" opened right where Hart of Dixie Season 1 left off. The next morning, to be exact. The last thing we saw was that Zoe and Wade had finally consummated their relationship and George ended his engagement with Lemon in the most dramatic way possible. 
When Zoe awoke the next day, she saw a sleeping Wade Kinsella and George calling her cell phone. Zoe was definitely conflicted and so she went straight to the person who had been her best friend in Bluebell, Lavon. Obviously not having changed, Lavon laughed at the fact Zoe had slept with Wade, while most of us were saying, "finally!"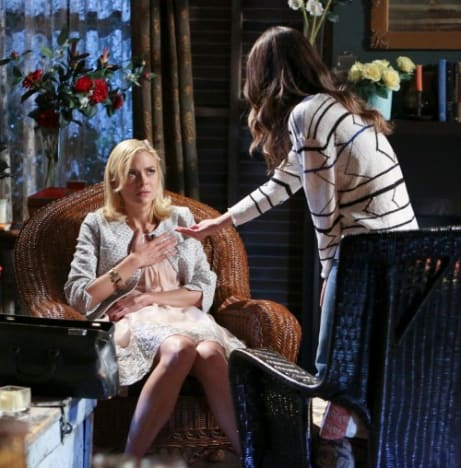 For most of the opening season I adored Wade and all of his immaturity - but here I can tell you that I definitely did not. I have always wanted Wade and Zoe to be together but after the way he acted, I'm not so sure I feel that way anymore. I guess in a positive light I look forward to watching Wade grow up a bit this season and maybe then I'll change my mind back.
For now, though, I can't say I don't enjoy the "friends with benefits" thing they have going on right now. 
Then there was the charming and adorable George, who was very open with his feelings about Zoe in the sweetest way. It was so adorable that it had me thinking that George definitely needed to slow down. Thank goodness Zoe came to that same conclusion at the end of the episode. I completely agree that George needs to date around because Zoe deserves to be more than a rebound. 
One thing that I absolutely loved about this episode was the introduction of the newest character, Ruby. Her first comment was about Zoe's shoes and as a fellow fangirl I can definitely agree that Zoe has the best footwear in Bluebell. It was at that moment I knew I'd like Ruby. I hope we continue to see more of a friendship between Ruby and Zoe because she needs a good "girlfriend."
Another thing I enjoyed about Ruby was her past relationship with Lavon; I assume since she'll be staying around we will be getting more of their story. 
Let me take a moment to talk about Lemon Breeland. We've only known her as George's fiancé and the crazy lady in Bluebell. Now that she is going to start redefining herself, I will stand by my season one theory that she will be one of the characters that will grow the most in this series. Some of that growth happened tonight and I loved it!
She sat down with Zoe and, even though drugged, she was able to listen to Zoe and take her advice. Lemon said she'll hate her for as long as she lives but can we all agree that their is a small possibility those two will be friends in the future? 
I didn't care too much about the "hostage" situation that had the whole small town of Bluebell anxiously waiting outside Zoe's house.
Overall, this was a pretty decent season premiere. They've seemed to change the tone of the show to funnier and much lighter than season one, so far, and I'm glad. I think a tone change needed to be done. I can't wait to see how the rest of this season plays out!