Jim's Notebook: Open to Smash, The Mindy Project and More!
Jim Halterman at .
This week's Jim's Notebook gets emptied out with remnants of my East Coast trip, where I hit the set of Smash as well as New York Comic-Con. But once I landed back in La-La-Land, I was off and running to cover a slew of other TV happenings...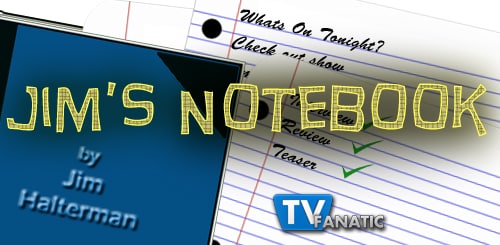 SMASH If you read last week's Notebook, you caught part of my chat with Law & Order: SVU star Danny Pino. The day after visiting SVU on location in Brooklyn, I was off to Queens to spend some time at the set of Smash, where the cast was busy shooting episode eight of the second season.
With new blood coming in like Jennifer Hudson, Broadway's Jeremy Jordan and a Will & Grace reunion with Sean Hayes and regular Debra Messing, NBC is giving it their all to shape Smash into a, well, smash when it returns, more than likely in January (no official date has been announced yet).
When we last left Ivy (Megan Hilty), she didn't get to play Marilyn, so she did what any of us would do – she popped a whole bunch of pills to make the pain to go away. Obviously Ivy survives because the fabulous Ms. Hilty was there to talk to me and she revealed where Ivy kicks off the new season: "
She's trying to get her life back together both personally and professionally. She's trying to make different, better choices. Most of the time it's working. Sometimes she can't help herself."
And turns out I just barely missed crossing paths with Broadway legend Bernadette Peters, who will be back as Ivy's overbearing mother and, of course, will be stirring up that tumultuous relationship with her on-screen daughter. I asked Hilty if despite having worked with the multiple Tony winner a few times now, did she still get a little starstruck?
"Absolutely! It's still there. We had our table read a couple days ago and she was sitting next to me and we've worked very closely together through the show and, still, I'll never let go of that."
HUNTED I get asked a lot about what makes a great interview and I always say that it's when the Q&A becomes more of a great conversation. A perfect example was sitting down with Creator/Executive Producer Frank Spotnitz about his new Cinemax series Hunted. 
While it helped that I've known Spotnitz for years, there was also just so much to talk about with the Melissa George-anchored drama. So I thought I'd save part of our conversation for this week's Notebook. (Follow the link to read the bulk of my interview with Spotnitz.)
TV Fanatic: By British TV standards, eight is a lot of episodes for a single series, right?
Frank Spotnitz: Yeah. It's a lot.
TVF: So, was eight a good number for you? Did you want to do more?
FS: Yeah. I would have liked to have done 10, but I will say, because it's for the BBC, when you do eight [episodes], it's a fifty-eight minute episode, and in American television an hour is a forty-four minute episode. It's a big difference. Sometimes I'll be watching and I'll say 'Now look right here, this is where we'd be done in America' and you still have masses of story in that but having said that, I would have liked to of done 10. I certainly had the story for 10.
TVF: Talk to me about the violence in the show because you really don't hold back. You're seeing as much as you probably could but is that… I don't want to say luxurious… but the fact that you can go there, is that a good thing for you creatively?
FS: Yeah. It is. I mean this is what television now allows you to do that you couldn't have done even a few years ago. To be honest there were times where I pulled back on the violence. There are episodes where it was much more brutal, what was shot, and I said 'that's going too far.' But I felt like I've been able to go as far as I wanted to go. I haven't gone as far as I could've.
Hunted airs every Friday on Cinemax starting tonight at 10 p.m.
PROJECT RUNWAY Season 10 came to a close last night, but during a Q&A on Wednesday, judge Nina Garcia looked back at the time when she first was asked to be on the show, which was then set to air on Bravo. Surprisingly, she was more than a little skeptical about if it could actually draw viewers.
"I thought it was a crazy idea," she told me. "I thought nobody would be interested in fashion. I was a little skeptical, but what made me do it [was] I knew Heidi [Klum] very well, having worked with her on many projects before, and I knew Michael [Kors] very well. I knew we had good company. Heidi brought the model perspective, having worked in this industry for so long; Michael his designer perspective having a phenomenal career as a designer; and I brought more of an editorial perspective. When I really saw all that kind of come together I thought, 'Okay. Fine. This makes sense.' And, of course, let's not forget Tim Gunn who was perfect and is a perfect mentor."
One of the more surprising and controversial moments of season 10 was when the judges consulted mentor Gunn about one of the designers, Ven. Gunn explained what happened and how that moment ended up staying in the show:
"I have to tell you what happened is unprecedented. I've never done that before and I have to tell you our director Craig came to me afterwards and he said, 'Well, first of all I don't know why you did that and secondly this is never going to end up in the show.' And I said, 'Well, I'll tell you why I did it and I agree that it would never end up in the show.'  I had a very dastardly motivation and my motivation was 'oh good, I can talk to judges and help Ven go home this challenge.' And it didn't work, and it ended up being Gunnar, and if I had known that I wouldn't have agreed to talk to the judges. I've never done it before and Heidi asked. I mean she often teases about it, which I have a red phone next to my chair so I can call Tim. I mean I'm always there. It's not as though they can't shout out to me but my refrain is, 'Sorry, Heidi separation of church and state.'"
THE MINDY PROJECT I was always a big fan of Mindy Kaling on The Office, so it's no big surprise that with each episode I'm loving The Mindy Project more and more - which is a good thing since Fox just ordered nine more episodes. In the last episode, her on-screen persona had met a new guy named Josh, played by Tommy Dewey, who you may remember if you were a fan of the short-lived ABC Family series Roommates.
Will we be seeing more of this romance?
"I just shot with him last night and I'm shooting with him again today," Kaling said. "It's been really fun shooting with Tommy because on his surface he just looks like this handsome 90210 kind of character, but we're playing him as a little bit of a weirdo. He is a weirdo, he comes out a little strong, he's a little off-putting, and to me seeing people like that redeem themselves is much more appealing than kind of just... a lot of romantic comedies use this kind of generic, boring kind of pretty good looking love interest and he is certainly the anti-that."
New episodes of The Mindy Project begin airing post-baseball on October 30th on Fox.
That's a wrap! Time to close my Notebook for now. Anything else you're dying to know about your favorite show? Leave a comment here or you email me directly at jim@jimhalterman.com. And remember: get all your TV scoop by following @TVFanatic.
Jim Halterman is the West Coast Editor of TV Fanatic and the owner of JimHalterman.com. Follow him on Twitter.